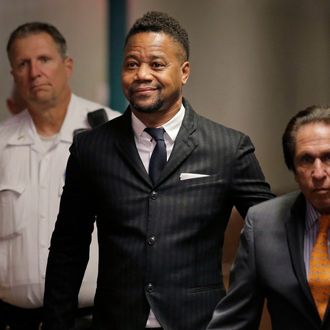 Photo: Seth Wenig/AP/Shutterstock
Cuba Gooding Jr. pleaded not guilty Tuesday to a four-count misdemeanor indictment charging him with inappropriate conduct involving two women. Prosecutors revealed in court that they want to use allegations from another 12 accusers against him.
Gooding is not charged in relation to these other 12 accusers, and a judge will decide later whether prosecutors can use their allegations in court.
As a handcuffed Gooding, looking somewhat fatigued and bewildered, was escorted into the courtroom, some people in the hallway shouted, "We love you!"
Gooding's court appearance today came several days after his groping case took a more serious turn.
The actor initially landed in legal hot water this June, for allegedly grabbing a woman's breast at the Magic Hour Rooftop Bar and Lounge at the Moxy NYC Times Square hotel.
The Manhattan District Attorney's Office charged Gooding with two misdemeanor counts in relation to this alleged incident: sexual abuse in the third degree and forcible touching. He pleaded not guilty to these charges.
But prosecutors revealed in court last week that he had been indicted on Wednesday — and that this indictment included an "additional incident."
Court proceedings and paperwork today revealed that the two new counts involve allegations that Gooding "pinched the buttocks of a woman without her consent" at Tao nightclub in October 2018; he is charged with forcible touching and sexual abuse in the third degree for this alleged incident.
The uncharged allegations against Gooding include forcible biting, licking, and kissing on some 12 occasions since 2001.
"Defendant's past behavior shows that he routinely approaches women while at bars or nightclubs with whom he has limited or no prior interaction, and touches them inappropriately," prosecutors argued in court papers. "His prior acts demonstrate that his contacts with their intimate parts are intentional, not accidental, and that he is not mistaken about their lack of consent."
Mark Heller, one of Gooding's lawyers, contended that the new accuser was after money and went to the cops when it didn't work out.
"The new accuser sought to secure a confidential settlement from Cuba after he was arrested and before going to the police," Heller said in court, further claiming that Gooding "bravely chose not to be shaken down."
Heller also cited Joe Biden, who has been accused of inappropriate touching, in defending his client from the "hysteria and unusual environment and climate that exists today to such an extent that a commonplace gesture is now perceived to be inappropriate."
"We look, for example, to the incredible condemnation of Vice President Joe Biden for touching the shoulder of a woman," Heller said.