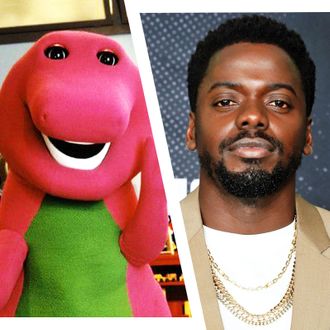 Do we have to explain who's who?
Photo: PBS and Getty Images
Barney is a dinosaur from our imagination and to a theater Daniel Kaluuya brings this dinosaur sensation. The Get Out and Black Panther star is pivoting to reboots with a live action Barney movie based on the purple friend we all know and love. "Barney was a ubiquitous figure in many of our childhoods, then he disappeared into the shadows, left misunderstood," said Kaluuya, through a statement to The Hollywood Reporter. "We're excited to explore this compelling modern-day hero and see if his message of 'I love you, you love me' can stand the test of time."
Barney, a modern-day hero? Apparently right up alongside Todd Phillips's Joker and Tekashi 6ix9ine? 2019 is so weird. Kaluuya will star and produce under his new production company, 59%. There is no studio attached the film yet. Barney is one of a few Mattel properties becoming big-screen stars. Margot Robbie, Noah Baumbach, and Greta Gerwig are already teaming up on a Barbie movie, while Hot Wheels and Masters of the Universe movies are in development. Little else is known about Barney, but hopefully it manages to fit a Selena Gomez and Demi Lovato reunion in there somewhere.