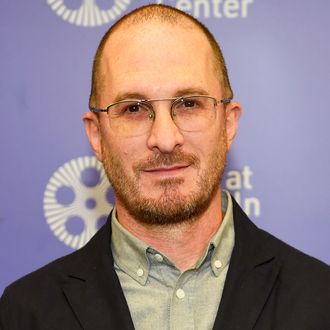 Who does this clown think he is?
Photo: Jamie McCarthy/Getty Images
Darren Aronofsky, director and ex-boyfriend of Jennifer Lawrence Maroney, loves a good scarf. He is rarely spotted without some large piece of fabric draped around his neck, much to Vulture's delight. Last week as the temperature in Manhattan dipped into the mid-50s, Darren Aronofsky, was spotted at the Quad Cinema introducing a screening of the French artist Prune Nourry's documentary Serendipity, which he executive produced. Shockingly, Aronofsky was spotted … without a scarf. This aggression will not stand, man! Aronofsky once told HuffPost that he wears scarves, truly, "because the weakness of my body is my throat. Whenever I get a cold, it starts in my throat, so it's purely a Band-Aid." Well it's cold outside, baby! Where's that scarf?
Sir, I'm calling your Mother!