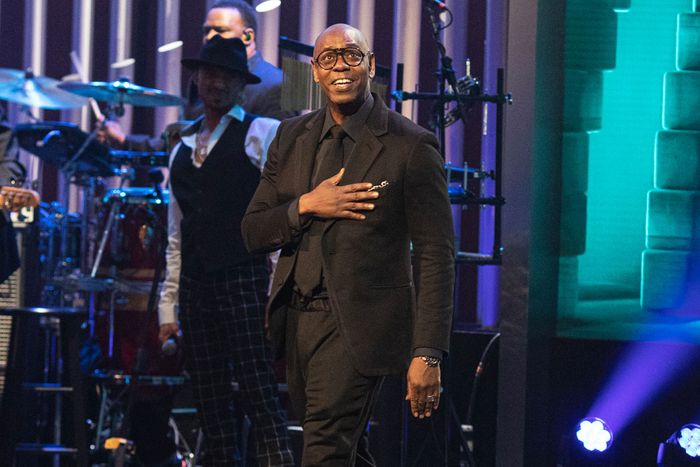 Dave Chappelle at the 2019 Mark Twain Prize ceremony.
Photo: Tracey Salazar
When the Kennedy Center gave Dave Chappelle the Mark Twain Prize for American Humor on Sunday night, the event was, from beginning to end, completely Chappellian.
It opened like a real [spoken in Chappelle's Rick James voice] celebration, with none other than Morgan Freeman delivering a riff on the opening to Prince's "Let's Go Crazy" that culminated with Freeman shouting, "Let's go fucking crazy!" while a live band launched into the song and the members of the Duke Ellington School marching band, Chappelle's alma mater, stormed the aisles of the Kennedy Center's concert hall. Projected onto the large screens onstage during all this joyful mayhem: an image of Chappelle dressed as Prince on the episode of Chappelle's Show where he famously dunked a basketball before proclaiming: "Game: blouses." As soon as that mini-party ended, Chappelle, wearing his oversized '70s-style glasses, walked onstage to a standing ovation, at which point he greeted the crowd and took his seat in a box next to his wife, Elaine, their children, his mother, and his mother-in-law. I've attended many of the Mark Twain Prize ceremonies over the years, a dozen of the 22 that have been held. I've never seen the honoree get announced and take the stage for a few moments at the beginning of the night.
Like that opening, the salutes to one of the most celebrated stand-ups of his generation were sometimes musical, took unexpected turns, and emphasized the degree to which Chappelle does everything his way. It's that quality that makes him such a great comedian and also can be frustrating, perhaps especially for those who have been disappointed by the less sensitive jokes in his recent Netflix specials. Chappelle is who he is, always, and he doesn't apologize for it. Or, as Jon Stewart put it in his remarks during the ceremony: "That's the beauty of Dave. I don't know anybody who cares more deeply and anyone who gives less of a fuck."
The controversial nature of Chappelle's comedy was not ignored throughout the nearly three-hour program, which will be edited into a two-hour special airing January 6 on PBS. Several of the montages of Chappelle's work — which included bits from his stand-up specials, Chappelle's Show, interviews, and film work — emphasized that. One was even titled "Crossing the Line." The degree to which he's done that lately, particularly when he jokes about the trans and LGBTQ community, was even slyly called out by Saturday Night Live's Michael Che, who appeared alongside colleagues Kenan Thompson and Colin Jost to honor Chappelle. "We all know that we're a part of the joke," Che said of Chappelle's humor. "He's willing to make fun of everybody, whether you're white or gay — end of list."
In his speech that concluded the event, Chappelle, who lit up a cigarette and smoked as he talked, made it clear that he still feels strongly that comedy should involve crossing lines and making the audience uncomfortable. "There's something so true about this genre, when done correctly, that I will fight anybody that gets in a true practitioner of this art form's way," he said. "Because I know your heart. This is the truth, and you are obstructing it. I'm not talking about the content. I'm talking about the art form. Do you understand?" A few people in the audience responded, "Yes."
"Do we have an agreement?" he added, while the audience applauded.
Then he continued, "What I really wanted to say tonight, and I'm glad to get the platform to do it: I'm gay! I am gay, and I can't wait to see what this does for my career, being handled like this."
Aside from those moments, though, most of the evening was devoted to fun, occasionally even heartwarming stories about Chappelle and the crazy, unexpected, memorable things that happen when you spend even a few minutes in his orbit. Among the stars who participated in the ceremony, in addition to those already mentioned, were Tiffany Haddish, Aziz Ansari, Sarah Silverman, Lorne Michaels, Chappelle's Show co-creator Neal Brennan, Chappelle's A Star Is Born co-star Bradley Cooper, and, in a pretaped segment, Eddie Murphy. (Several comedians and actors — Michelle Wolf, Jeff Ross, Sasheer Zamata, Chris Tucker, George Lopez, and Chappelle's Show regular Donnell Rawling — also showed up in the audience.) The musical talent assembled to perform was an all-star team of alumni from Chappelle's Show, Dave Chappelle's Block Party, and Chappelle's live-show circuit: Common, Erykah Badhu, John Legend, Q-Tip, Frédéric Yonnet, and Yasiin Bey, a.k.a. Mos Def. The degree to which Chappelle has supported up-and-coming musicians throughout his career and is inspired by such artists was a running theme throughout the night.
Even more of a running theme? What an amusement-park ride it is to hang around with Chappelle.
Haddish, dressed in a jumpsuit with a "Haddish" name tag in the spot that would ordinarily read "Chappelle," remembered having drinks with Chappelle and Marlon Wayans at a late hour one Christmas, at which point Chappelle announced they were going bowling. When she pointed out that no bowling alleys would be open at 1 a.m. on Christmas, he told her: "Do you realize I'm Dave Chappelle?"
"We pulled up to this huge gate, I mean huge," Haddish recalled of what happened next. "I was like, 'Are we gonna be bowling at Jurassic Park?' We get out of the car, go to the door, and guess who opened the door? Eddie Murphy opened the door! I was like, 'Oh my gosh. I can't believe it. Axel Foley has a bowling alley!'"
Ansari recounted one of the nights earlier this year when the two performed together in Austin, Texas. Chappelle told Ansari that he had just found out the Kennedy Center would be giving him the Mark Twain Prize and asked if Ansari, who had planned to turn in early, wanted to eat some psychedelic mushrooms.
"He said, 'What are you going to tell your kids 20 years from now, Aziz? Are you going to tell them, I was there the day Dave Chappelle found out he won the Mark Twain award and we ate mushrooms together and we had the night of our lives? Or are you gonna tell them you got some sleep?' And I said, 'You've got a point there. Let's eat some mushrooms!'"
Yasiin Bey, in a spoken-word duet with Q-Tip, recounted the time that he and Chappelle, a native of the D.C. area, were hanging out in D.C. and walked over to the White House to see if, by some chance, George W. Bush wanted to hang. A security guard came out to speak to them, but before he could get any words out, Chappelle said, "I used to live here. I just wanted to see the place," and walked away.
Bradley Cooper, who called the first scene he shared opposite Chappelle in A Star Is Born "the best scene I've ever done with another actor," took the opportunity to clarify something Chappelle said in the monologue he delivered on SNL back in 2016. In it, he talked about being at an Obama White House party where everybody was black except for Bradley Cooper, who was "there for some reason."
"I'm still mad about SNL," Cooper joked at the end of his remarks. "In your monologue, you did say we were at the White House and you saw a sea of faces and there was one white guy, and you thought, Oh, Bradley Cooper's here. We went to that together, motherfucker. What are you talking about?"
During every single one of these stories, Chappelle sat in his box and laughed, sometimes pounding on the railing in front of him or even getting up out of his chair for a second when he was really amused. He did that a few times during the 14-minute walk down Half Baked and Chappelle's Show memory lane provided by Brennan, the honoree's frequent writing partner, who gave the best speech of the night.
"People always say to me, 'Man, Chappelle's Show looked like a blast. Was it fun?' It wasn't!" Brennen said. "It wasn't fun at all. It was hard. We had to stay awake for 48 hours at a time just to keep up with the schedule. We were bombed out and depleted. We were lumped up. We both had erectile dysfunction. I told Dave about mine and he said, 'It's because we use the laptops too much, man. Plus, we're not as young as we used to be.' Meanwhile, there's no causal link between laptop use and erectile dysfunction, and also, we were 29."
There was an honesty in these tributes that isn't always present at events like this. And whether you agree with Chappelle all the time or not, that honesty is very clearly what he continues to value about comedy.
"Stand-up comedy is an incredibly American genre," Chappelle told the audience during his closing speech. "I don't think any other country could produce this many comedians. Unbeknownst to many people in this audience, I don't think there's an opinion in this country that is not represented in a comedy club by somebody. Each and every one of you has a champion in the room. We watch you guys fight. But when we're together, we talk it out. I know comics that are very racist. I watch them onstage, and everyone's laughing and I'm like, 'Ooh, that motherfucker means that shit.' I don't get mad at them, don't hate them. We go upstairs and have a beer, and sometimes I even appreciate the artistry that they paint their racism with. Man, it's not that serious. The First Amendment is first for a reason."
Then he added: "The Second Amendment is juuust in case the first one doesn't work out."