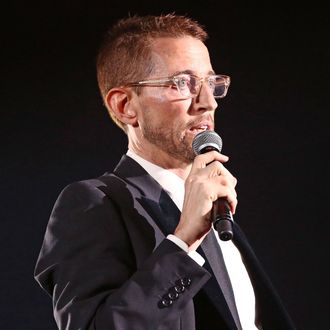 Neal Brennan.
Photo: Rich Polk/Getty Images for The Art of Elysium
Several great speeches were delivered Sunday night during the Mark Twain Prize ceremony honoring Dave Chappelle held at the Kennedy Center. Longtime SNL cast member Kenan Thompson spoke from the heart about how much Chappelle's comedy has influenced him: "Your fearlessness to entertain the way that you want to has definitely pierced my life, to the point where I played a werewolf choreographer last night." Bradley Cooper said some sincere words about how Chappelle inspires him as a father: "My daughter's [backstage], and I'm just so grateful, Dave, that I got to meet you before I had my daughter. Because you taught me how to be a better man, and you teach me how to be a better man." Jon Stewart even vividly recalled how it felt to be working at Comedy Central when Chappelle abruptly quit Chappelle's Show: "Comedy Central would do anything to keep it going, and they offered Dave 50 million dollars. 'Just give us one more [season]!' But Dave, at that moment, was conflicted, because of the difficulty of how the show was to do, because he wondered about its impact on the audience that he meant it for, and he wondered if the creative process wasn't right for it. And he walked away. And it was at that moment that I remember thinking: Comedy Central has 50 million dollars?"
But the best tribute of the night belonged to Neal Brennan, Chappelle's longtime writing partner and co-creator of Chappelle's Show. For more than 14 minutes, a lot of which will presumably be cut from the TV broadcast for time, Brennan talked about their partnership, the failure of their movie collaboration on Half Baked, their work on Chappelle's Show, and how much he values their personal and professional relationship. It was very funny, and vivid, and also offered some behind-the-scenes dirt about Half Baked, which is obviously what we all came to hear.
Here are some excerpts from the speech. See more of it — or maybe just different parts of it — when the Mark Twain Prize ceremony airs on PBS on January 6.
In 1997, Dave calls me and goes, "Hey, if Universal reaches out to you, tell them we're writing a weed movie together." I was like, "What weed movie?" Dave said, "Don't worry about it." Looking back, it made sense that the origins of a weed movie sound pretty much like you'd imagine.




Next thing I know, someone from Universal calls me and asks, "Are you making a weed movie with Dave Chappelle?" And I was like, "Yes?" And they were like, "When can you pitch it to us?" And I was like, "In 30 days' time." So we had a month to work the pitch out. Finally, on day 29, I called Dave. I'm like, "Dude, we got to work this weed movie out." And he goes, "What weed movie?"




We got to January of 1998. Half Baked opened against Good Will Hunting, Wag the Dog, As Good As It Gets, and, oh yeah, Titanic. It was a critical and commercial flop, and quite frankly, wasn't very good.




A couple of years later, after the stink wore off both professionally and personally, Dave and I were on the phone again, which was a thing people used to do. And he says to me, "Hey, man. We should do a TV show like Playboy After Dark." Now if you remember what Playboy After Dark was, get your affairs in order because you're on death's door. If you don't remember Playboy After Dark, it was a super laid-back TV show in the 1970s, hosted by Hugh Hefner, who was a magazine publisher and mild sex trafficker. Imagine Jeffrey Epstein with a grotto. [At this point, Chappelle is laughing so hard, he gets out of his chair and walks halfway out of the box where he is sitting.] Anyway, Dave's idea was what would come to be Chappelle's Show. We went around pitching to a few networks. HBO didn't go great. The woman actually said to Dave, and I quote: "Why do we need you when we have Chris Rock?" See, back then there could only be one popular black comedian at a time. Unlike today, when there can be three.




We trudged up Sixth Avenue in the New York summer heat on the way to our next pitch. I remember looking over at Dave and feeling crazy. Do you remember that? I felt crazy because he's so funny and I couldn't understand why people weren't falling over themselves to work with him. So then, a few minutes later, we pitched at Comedy Central and they bought it. We made the pilot for Chappelle's Show, we got picked up to series, and the show went really well. Like, absurdly well. Like, so well, you gotta go to Africa well. 




When we started the show, I knew Dave was the funniest person I'd ever met. By the end of the show, I knew Dave was one of the funniest people who'd ever lived. I think he even surprised himself with how funny he was. There were times where he would just improvise something that we had never talked about before, that he'd maybe never even thought about before. Clayton Bigsby's entire speech about breathing the white man's air, and Will & Grace, and if you have hate in your heart, let it out, white power: all made up. I have to say, saying "white power" in this room didn't sit right with me.




Tyrone Biggums's speech to the kids about doing drugs with Mickey Mouse: totally made up. And that's just the first two episodes of the show. So much of it was just completely off the top of his head. Rick James saying "It's a celebration" and "Fuck yo couch" and five fingers hitting the face. Black George Bush telling Kofi Annan that he should be in Times Square selling fake hats. Dylan, Dylan, Dylan, Dylan. He made it all up.




Writing and directing Dave sometimes was as simple as me standing onstage with my jaw hanging open, going, "Uh, cut?" Also, the show was personal. Scores were settled, axes got ground, even toward me. See, I always felt like Dave blamed me for the failure of Half Baked. One day, we were shooting a sketch where Dave quits the show because he got Oprah pregnant, and we're doing a scene where he's rampaging through the offices. And he gets to me and he dumps trash on my head. Here's why I suspect he blamed me for Half Baked: As he dumped the trash over my head, he said, "This is for Half Baked."




[Chappelle stands up and shouts something to Brennan.]




He claims that I actually wrote that line and told him to say it. Which is the only time this entire evening that I'll be receiving credit for Chappelle's Show. It's not my night. It's his night.




The thing that I love about Chappelle's Show is that it allowed Dave to be his entire self, to express his intellect, his anger, his morality, his silliness, his hypocrisies, his sadness, his blazing talent. Chappelle's Show was a rare thing. It was a fully faceted document of a human being living in the United States of America while having the surreal experience of being born with black skin. So, you know: Playboy After Dark.