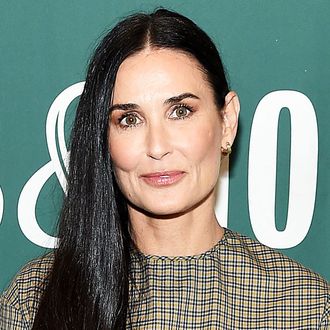 Demi Moore, keeper of celebrity secrets.
Photo: Jamie McCarthy/Getty Images for ABA
If her memoir had only gifted us with the news that Jon Cryer has, in fact, slept with more than one person and may just be bad at sex, it would have been worth it. But Demi Moore doesn't stop there in her memoir Inside Out, which just debuted atop the New York Times' best-seller list. "Thank you guys for reading and allowing it to resonate with you," Moore posted to Instagram. But along with Cryer, who else might this bona fide gem of literature resonate with? No fewer than 14 other celebrities who appear in its pages, among them movie stars, musicians, and all-around A-listers; lovers, friends, and a president's daughters. We know you might've seen bits and pieces elsewhere, but we pulled together all the juicy details for you in one place.
Roman Polanski, director
When Moore's mother took her to live in West Hollywood, they lived in the same apartment complex as German actress Nastassja Kinski, then working on her English so she could star in Roman Polanski's movie Tess. "One night she took me along to dinner with Polanski," Moore remembers. "He tracked me down to invite me to dinner a second time months later, and I went with my mom. He was a perfect gentleman on both of those evenings, but he had been convicted of having sex with a thirteen-year-old girl. (I saw this dynamic all around me. Thirteen was a little extreme, but in my world, believe it or not, relationships with underage girls was the norm.)" Just a few days later, Moore notes, Polanski fled the U.S. to avoid sentencing after pleading guilty and finished Tess in France.
Anthony Kiedis and Flea, Red Hot Chili Peppers musicians and high-school classmates
Unbeknownst to her at the time, Moore overlapped with future Red Hot Chili Peppers bandmates Anthony Kiedis and Flea when she went to Fairfax High School in L.A. "I seriously doubt I was cool enough to run with their crowd," Moore says of her now-friends. We just want to know: Were they actually cool in high school? And how much did they smoke? Guess we'll have to wait for that in Flea's memoir.
Fred Moore, musician and first husband
As the tale goes, Moore married Fred Moore three months after she turned 18, shortly after dropping out of high school — but she reveals in her memoir that it also came after her father's apparent suicide. "The night before we got married, instead of working on my vows, I was calling a guy I'd met on a movie set. I snuck out of my own bachelorette party and went to his apartment," she writes. "Why didn't I go and see the man I was committing to spend the rest of my life with to express my doubts? Because I couldn't face the fact that I was getting married to distract myself from grieving the death of my father. Because I felt like there was no room to question what I'd already put in motion." Later, when filming Blame It on Rio in Brazil, Moore lived with a cameraman named Peter and "nearly burned a hole through my nostrils" from her developing cocaine habit. "It was easy to forget I was married — to the point that one night Peter and I ended up in bed," Moore writes, and while she notes it only happened once, it sparked her divorce from Fred.
Rob Lowe, St. Elmo's Fire co-star
This one isn't exactly news, according to Moore, because Rob Lowe already told the tale in his own tell-all, the aptly titled Stories I Only Tell My Friends. She remembers things differently, though: "In his own memoir, Rob suggests that we had some kind of hot-and-heavy romance," Moore writes. "I can vaguely recall one ill-advised late night together, but I'm grateful to him for the complimentary descriptions of our youth."
Emilio Estevez, St. Elmo's Fire co-star and ex-fiancé
Her life may have played out in a drastically different way had Moore married Emilio Estevez, whom she first met on the set of St. Elmo's Fire and later got engaged to after her time in rehab. "Emilio and I had in fact just mailed out the invitations for our wedding when a friend told me she had seen him out with someone else in L.A.," Moore remembers. "He denied it, of course, but I was having a hard time trusting him: during a two-week breakup a few months before, he'd slept with an 'ex' girlfriend, lied about it and then been forced to tell me the truth when he found out she was pregnant." She brought him in to talk with her therapist, she reveals: "When he revealed his priorities in that session — you'll be shocked to hear — I was pretty low on the list. I postponed the wedding indefinitely."
Ed Zwick, About Last Night director
After she gave up drinking and cocaine, Moore writes, "all my anxieties shifted over to food." As she worked to get cast in the rom-com About Last Night, starring an "old pal," Rob Lowe, director Ed Zwick confronted her about her weight. "When I went to see him at his office in L.A., my worst nightmare came true: he sat down and said, 'You are really who I would like to do this film, but you would have to promise me that you would lose weight," Moore says. "I'll never forget that moment as long as I live." She had gained weight, she adds, but this instance kick-started an eating disorder, marked by obsessing over her diet and binge-eating.
Bruce Willis, actor and second husband
Although Moore claims that she's "very proud" of her divorce from second husband Bruce Willis and the way they've co-parented their three children, that doesn't keep her from subtly (and not so subtly) shading him throughout her book. When they first met at the premiere of Stakeout, "my impression was, he's kind of a jerk," But they got to know each other at the after-party: "He was so attentive as the evening progressed, I was stunned to find out later that he'd actually been on a date that night with another woman!" After they married and had their first child, Rumer, Willis was leaving to shoot Hudson Hawk and "he dropped a bombshell: 'I don't know if I want to be married,'" Moore remembers. "I think that as a true Pisces, he was struggling to resolve a conflict within himself: he wanted family and grounding, but he also craved excitement and novelty," she observes. "Basically, he wanted to do whatever the fuck he wanted. Not so unusual in men that age — he was thirty-six at the time — and throw in celebrity and money? You do the math." Yet he wouldn't commit to leaving, either, and the night he returned from the shoot, Moore became pregnant with Scout. Men!
Adrian Lyne, Indecent Proposal director
When Moore rold Adrian Lyne she lost weight for the movie's sex scenes, "he just kept looking at me with a disturbed expression on his face," she writes. "Finally, he spat, 'I don't want you looking like a fucking man!'" She notes that he threatened to fire her, through her agent, if she didn't lose 10 pounds, before backing down. Moore's friend Glenn Close had in fact warned her of her experiences with Lyne on the set of Fatal Attraction, when he "was yelling out encouraging obscenities" during her sex scenes with Michael Douglas. "Glenn hadn't exaggerated," Moore notes. (Lesson learned: Always trust Glenn Close.) "He literally didn't stop talking — practically hollering! — the whole time we were shooting the sex scenes," Moore says of Lyne. "'Fucking raunchy! Oh god, got a boner on that!' he'd yell. Come on, grab his dick!'" She reflects, "At first it was creepy … but once I got used to it, I saw its advantages: having Adrian carry on that way took the focus off my awkwardness because he was so over-the-top."
Ashton Kutcher, actor and third husband
Kutcher has already acknowledged his inclusion in Moore's book, which describes him pushing for threesomes and eventually cheating on her. He tweeted an apparent reference to Moore's revelations the day after the book came out, claiming, "I was about to push the button on a really snarky tweet. Then I saw my son, daughter, and wife and I deleted it." A source also told People that this hasn't shaken his marriage to Mila Kunis, saying, "Nothing came out in this book that Mila did not already know." But along with the cheating, Moore describes Kutcher becoming "less and less present" after he spent a week in Europe and she quit Vicodin cold turkey. She adds, "He was focused on other things: his work; his growing involvement in the tech world; his fantasy football league." Don't we all know that guy? When Moore wanted to get pregnant with him again after previously miscarrying, he agreed to use an egg donor, only to back out of it four days later. According to her, he replied, "I never thought you'd go through with it." They later divorced amid his confirmed cheating. (If you feel like he did Moore dirty, why don't you text him about it?)
January Jones, actress and Kutcher's ex-fiancé
Kutcher was engaged to January Jones when he first moved to L.A., and he once thought she cheated on him with Willis while they filmed Bandits together, Kutcher later told Moore. "Years later, I happened to sit next to January at an event, and I mentioned this," writes Moore, who, if you haven't guessed by now, holds nothing back. "'Are you serious?' she said, laughing. 'I told him a hundred times, I didn't want to fuck that old man!'" That may not be the way to talk about the father of someone's children around them, but for the record, Willis was 46 at the time, while Jones was 23.
Barbara Pierce Bush and Jenna Bush Hager, activist and TV host
Kutcher's Beverly Hills bachelor pad was "a straight-up L.A. party house" before Moore came into his life. "George Bush was president at the time, and somehow his twin daughters ended up doing bong hits at that house at one of Ashton's parties," Moore writes. "He was sure the Secret Service was listening in on his calls from then on." Malia Obama would like her apology now, thank you.
Lena Dunham, herself
Okay, so we're not totally sure about this one, but Moore does leave an acknowledgment to a "Lena D.," and we know one of those. She simply writes, "You are magic." That's … one way to put it!
Bonus Ashton Kutcher content!
The day Moore introduced Kutcher to her daughters, "they all started whispering, 'Is that ASHTON KUTCHER?!?'" (a totally normal response); Willis thought at first that Moore had brought him specifically to meet their children, "the way we'd once arranged for Aaron Carter to come to Disney World for Scout's birthday." In those early days of their relationship, the couple bonded over their shared interest in Kabbalah, and Kutcher also introduced her to Twitter (which she must regret, like the rest of us).