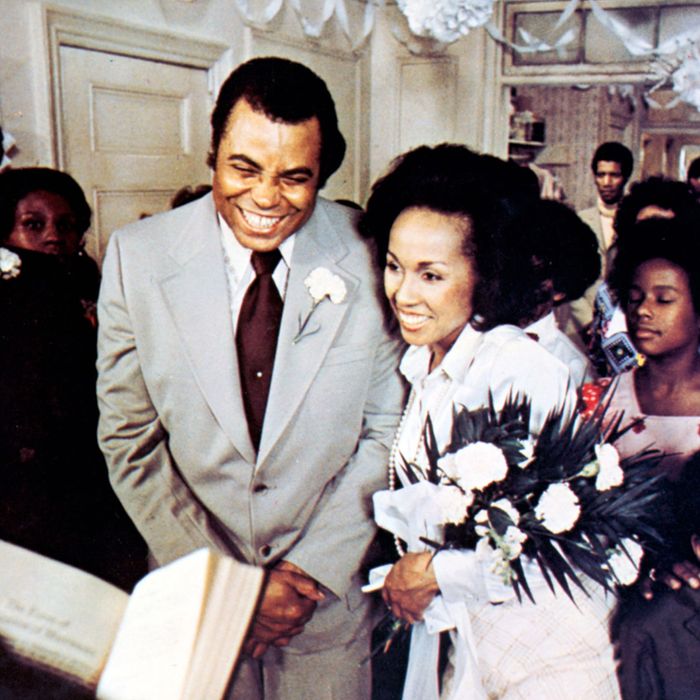 James Earl Jones and Diahann Carroll in
Claudine.
Photo: Twentieth Century Fox
I do not recall the exact circumstance in which I first saw Diahann Carroll. Perhaps it was in old reruns of her TV sitcom, Julia, on which she played a widowed nurse raising a little boy. Maybe it was on one of the 8 million variety shows that littered the airwaves in the early 1970s, like the one she hosted as a summer replacement for Carol Burnett's famous series. I remain unsure of that first time, but I do remember this: In 1976, my parents took me to the Pix Theater in my hometown of Jersey City, New Jersey, to see a double bill of Mother, Jugs & Speed and Carroll's 1974 romantic comedy, Claudine.
In John Berry's film, Carroll played a working-class mother with six kids trying to make ends meet. Like my mother, she took no guff and was quick with a snappy retort. She was also unafraid to whip her kids' asses when they stepped out of line, another trait she shared with my mother. Carroll's performance singed the character of Claudine into my brain. Immediately, I loved her, I was afraid of her, and I never forgot her. This is a rather amazing feat considering Claudine played after the movie in which Bill Cosby said all manner of filth-flarn-filth and Raquel Welch portrayed a character named for her breasts.
My instant affection was a byproduct of the power of Diahann Carroll. Before leaving us this week at the age of 84, she blazed a trail through television, movies, and the stage, hitting several firsts along the way. She became the first Black actress to win the lead Tony in a musical. She was the first Black actress to star in a sitcom where her character wasn't a maid or some other stereotype. And she was the fourth Black actress to score a Best Actress Oscar nomination for, of all things, Claudine. Coincidentally, Carroll made her debut in the film that garnered Dorothy Dandridge the first Best Actress Oscar nomination for a woman of color, 1954's Carmen Jones. In that film, she played one of the young women vying for the hand of the boxer desired by Dandridge. It was a comedic role, a pairing with the genius known as Pearl Bailey, opposite whom Carroll held her own.
I didn't see Carmen Jones until the mid-'90s, and I didn't see Porgy and Bess, the other film she made with Dandridge, Bailey, and director Otto Preminger, until last month. But Claudine was another story. A fixture of my childhood, it was on WPIX Channel 11 whenever the station felt like running it, which was often. I'd tune in to hear the classic Curtis Mayfield soundtrack sung by Gladys Knight & the Pips, as Carroll tried to eke out a romantic existence with Darth Vader himself, James Earl Jones. Jones is a far more mischievous lad here, his eyes twinkling every time he pitches fresh woo to Claudine in the same voice that scared the hell out of the heroes of Star Wars.
Speaking of Star Wars, Diahann Carroll continued her trek through my childhood by appearing as a, um, masturbatory aid for Wookiees in the infamous Star Wars Holiday Special. The credits appropriately listed her as "Mermeia Holographic Wow." This was my first run-in with the glamorous side of Diahann Carroll, a side she was so well-known for that she had to fight to play the far less ostentatious Claudine. It was only after the original actress, the majestic Diana Sands, suggested Carroll as her replacement in the role that she was given a shot.
Fast-forward to the heady, hormonal days of my adolescence — the glorious 1980s — when you'd find me hopelessly addicted to my "stories," both daytime and nighttime. I was an All My Children junkie and a Dynasty fiend, eagerly awaiting each piece of bitchy catnip thrown my way. Thanks to her desire to be "the first Black bitch on television," Dynasty producer Aaron Spelling cast Diahann Carroll as a foil for Joan Collins's awesomely mean Alexis Carrington. As Dominique Devereaux, Carroll matched wits, barbs, and slaps with Collins, all while dressed in luxurious clothing and glittering jewelry. Dominique was so popular she even appeared on the show's spin-off, The Colbys, opposite my favorite old-school actress, Barbara Stanwyck. If that weren't enough drama, Carroll also played the mother of rich Southern belle Whitley Gilbert on A Different World.
In the decade of my twenties, the 1990s, Carroll had memorable cameos as a sort of voodoo practitioner in 1997's fantastic Southern Gothic tale Eve's Bayou and as the wife of a music producer in 1991's The Five Heartbeats. She also played Sadie, one half of the Delaney sisters, opposite Ruby Dee in the television adaptation of Having Our Say. And, lest I forget, in 1995, Carroll played Norma Desmond in the Toronto production of Andrew Lloyd Webber's adaptation of my second favorite movie of all time, Sunset Boulevard. It felt as if she knew me well enough to cater to my addictions.
For the past two decades, Diahann Carroll had been primarily on the small screen. But in 2013, I had the opportunity to see her projected for a movie-theater audience one more time. For the Off-Plus Camera Film Festival in Krakow, Poland, I programmed nine movies on African-American cinema. One of those films was Claudine, which, by this point, had become my favorite romantic comedy of all time. I wanted to show it because it was a rare portrayal of the kind of blue-collar Black love my parents had, and because I wanted to share Carroll's performance. I also thought the Polish audience would appreciate its darkly comic tale of government bureaucracy.
I assumed this would be the most obscure film I would show, but to my surprise, several audience members informed me that Claudine had been a fixture on Polish television. And Dynasty too! I thought I was bringing Diahann Carroll to Poland, only to find that she was already there. What a wonderful thing to discover then — and to remember now — especially on a day like today. She was world-renowned in a career that spanned six decades and I'll miss her dearly. But I'll always have Claudine.