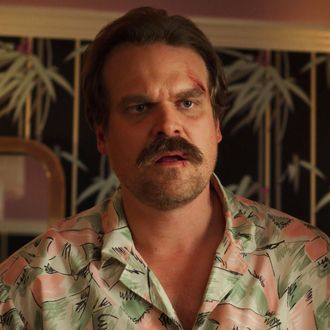 Sorry, Hopper.
Photo: Netflix
Netflix spent nearly $2 billion last year marketing its offerings, with many millions devoted to purchasing advertising on broadcast and cable TV networks. But now, one old-school media company has decided to stop taking a big chunk of that sweet, sweet streaming cash: Disney has told Netflix it will no longer hype its shows on ABC, Freeform, FX, and other Mouse House–owned networks. While the move comes as Disney prepares to launch its own direct-to-consumer streaming platform next month, the decision is also designed to slow Netflix's ability to steal eyeballs away from linear TV channels.
Disney's policy on accepting ad dollars from Netflix has been in flux for several months, a person familiar with the matter tells Vulture. Starting sometime in the summer, the company decided it didn't want to allow advertising from any rival streaming network — meaning the ad ban, in theory, would have also applied to Amazon Prime Video, the soon-to-launch Apple TV+, and HBO Max. ABC Entertainment boss Karey Burke hinted at the move in August, when she told reporters gathered at the TV Critics Association press tour that network ad inventory was still valuable and off-limits to the Netflixes of the world. "Competing streamers want to advertise on our air — we just won't let them," Burke said.
But as the Wall Street Journal was first to report Friday, and Vulture has confirmed, Disney's policy has evolved: Now, only Netflix is banned. A person familiar with Disney's thinking says the reason Amazon, Apple, and other media companies with streaming platforms are still welcomed as advertisers is because those companies have other relationships with Disney, including ways for Disney to advertise with them. Apple, for example, sells advertising on its Apple News platform, while Amazon has a huge ad division. Netflix quite famously does not do advertising. As a result, Disney decided it no longer wanted to help Netflix in its bid to attract more subscribers and get its current subscribers to watch more Netflix. (The Disney ban on Netflix ads does not extend to ESPN and its sister networks, since Netflix doesn't carry live sports, and thus, isn't a direct competitor.)
Disney's edict comes as its direct-to-consumer footprint is dramatically expanding. While the company has always had a stake in Hulu, it became the controlling stakeholder this year following its acquisition of Rupert Murdoch's 21st Century Fox. And next month, the company is launching the family-focused streamer Disney+. It's hard not to see a connection between these events and Disney's changing philosophy on selling ads to streaming rivals. And yet, a person familiar with the company's thinking says, Disney is even more concerned with not wanting to help Netflix draw viewers away from its various linear networks. After all, broadcast networks don't currently accept ads for each other's programming, while ads from cable networks are generally prohibited from telling viewers when precisely a show will air.
Of course, Apple TV+ and Amazon Prime Video are just as liable to lure viewers away from Freeform or ABC, but Disney apparently isn't ready to risk an all-out war with platforms that could retaliate by putting ad bans on Disney products. If Disney told Apple it wouldn't hype its new Apple TV+ program The Morning Show on ABC, for example, Apple could respond by removing ads for Disney+ from Apple News — or, even more dramatically, it could refuse to put the Disney+ app in the App Store.
Netflix doesn't have the same sort of leverage, though that doesn't mean it can't retaliate. One industry insider thinks Disney's move could result in Netflix deciding not to buy any new shows from Disney TV Studios, the company's main production arm. While Disney TV Studios is focused on making shows for networks and platforms within the Magic Kingdom (ABC, Freeform, Hulu, FX, etc.), the studio still sells to outside companies too: Netflix's The Politician, for example, is produced by 20th Century Fox TV, which is now under the DTV Studios umbrella. What's more, even though there's been lots of talk about studios keeping all their big hits for their own streaming services rather than selling syndication rights to Netflix — this is why The Office is headed to NBCU's Peacock — those studios might still want to distribute their smaller shows to streamers like Netflix. Netflix could respond to Disney's ban by cutting off all interactions with the Mouse House. (A rep for Netflix did not respond to a request for comment.)
What seems more likely is that Netflix will spend more ad money on other networks, or even go around ABC's network ban by purchasing ad time at the local level. TV station groups such as Sinclair own plenty of ABC stations (though not in the biggest TV markets), and are given several minutes of ad time in each hour of prime time to sell to whomever they wish. Similarly, cable networks like FX and Freeform give their local affiliate partners a few minutes of ad inventory every hour of the day. It's easy to see Netflix filling in the gap that way. This is how cable networks get around similar restrictions: FX and TNT have long refused to carry each other's advertising, but you might still see an ad for a TNT show such as Claws on FX because of a local sale.
But other big entertainment companies don't appear ready to follow Disney's lead. An NBCU spokesman tells Vulture there are no plans to change the company's policy of accepting ads from streamers, while a person familiar with the Fox network's policy says the company will also continue to take streaming cash on a case-by-case basis. CBS also accepts ads from streamers, though, as with most companies, doesn't allow those ads to include any specific airdates or times.