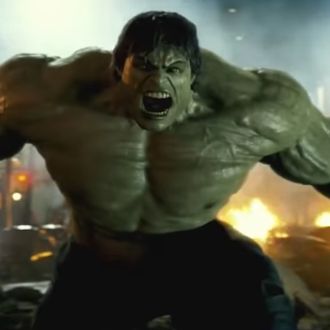 In another timeline, that could have been Bruce Banner dancing down the stairs in an ill-fitting orange suit, exploring the existential line between madness and genius. Okay, not exactly, but in a recent New York Times interview, Edward Norton waxes more than a little nostalgic about his untimely exit from the Marvel cinematic universe following 2008's The Incredible Hulk, where upon he was replaced by Mark Ruffalo. According to Norton, he pitched two gritty Incredible Hulk films that the studio claimed to love, and boy, they would have been good.
"[W]hat Chris Nolan had done with Batman was going down a path that I aligned with: long, dark and serious," the actor explained. "If there was ever a thing that I thought had that in it, it was the Hulk. It's literally the Promethean myth. I laid out a two-film thing: the origin and then the idea of Hulk as the conscious dreamer, the guy who can handle the trip. And they were like, 'That's what we want!' As it turned out, that wasn't what they wanted."
Following Norton's replacement, Marvel's Kevin Feige famously issued a statement that suggested it was Norton himself who caused the casting change, publicly announcing the studio's "need for an actor who embodies the creativity and collaborative spirit of our other talented cast members." See also: Hulkgate.
Says the actor now of Feige's "cheap" shot, "It was brand defensiveness or something. Ultimately they weren't going for long, dark, and serious. But it doesn't matter. We had positive discussions about going on with the films, and we looked at the amount of time that would've taken, and I wasn't going to do that." Also, if Edward Norton can keep it real with you for a second: "I honestly would've wanted more money than they'd have wanted to pay me."
However, if you're tempted to Hulk out on the actor's behalf, save yourself the price of a new pair of purple cut-offs. He's over it. "I went and did all the other things I wanted to do, and what Kevin Feige has done is probably one of the best executions of a business plan in the history of the entertainment industry," Norton concludes. Sounds like there's only one person left to weigh in at this point. Someone, get Eric Bana on the phone, stat.