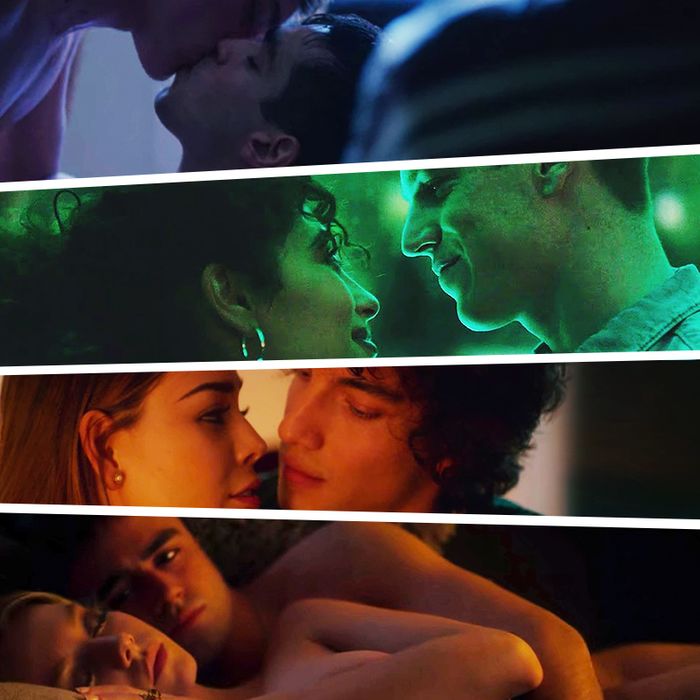 Hallelujah! Las Encinas's gaggle of truant teens are back. On the second season of Netflix's Spanish-language drama Élite, everyone is still reeling from last season's mysterious murder of popular girl Marina, with some handling it better than others: Guzmán gets caught up in a love triangle he has no business being in, while Samuel goes missing as he tries to connect the dots.
But above all else, be it murders, parties, or exams, Élite is a show about hot, horny teens. It's Gossip Girl meets Big Little Lies, where everyone is committing crimes and jumping into bed with one another. Season two's hijinks don't quite measure up to season one's, but there's still plenty of clownery afoot, and a lot of hooking up while it happens. Ask and ye shall receive. Vulture presents the official ranking of Élite's hottest couples.
7. Rebeca and Samuel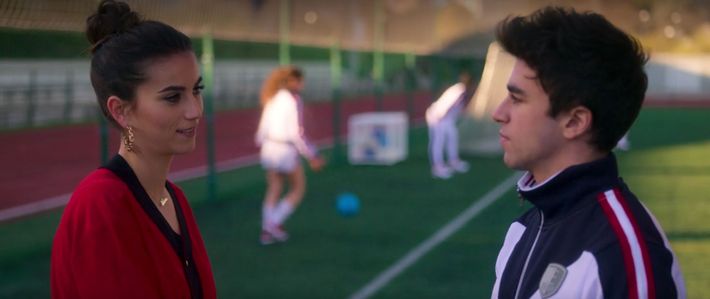 With Nadia busy working at her parents' store and not making up her mind about Guzmán, and Christian away at rehab after his injury, Samuel is pretty lonely this season. Enter season two's greatest addition, Rebeca: She's new money, living in Guzmán's old house, and spurned by the other rich kids of Las Encinas because her mom is a wealthy drug dealer with kitschy taste. She and Samu strike up a friendship, but she and her big ol' crush on him watch from the sidelines as he pursues Carla. Rebe deserves better! Even though they are loyal friends, nothing really happens between these two, so I'm keen on Rebe getting a better love interest next season.
6. Polo and Cayetana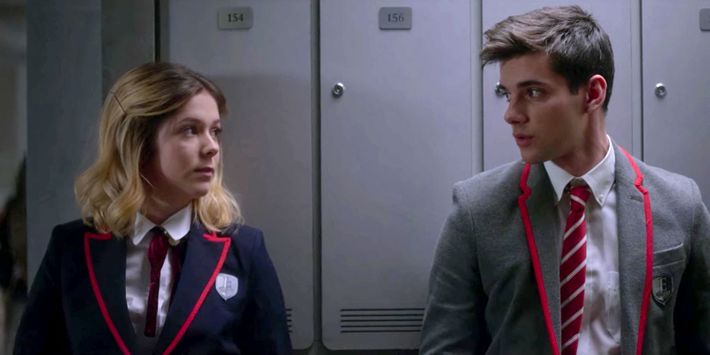 Season two introduces Cayetana, who appears to be another bratty rich student at Las Encinas: She scrolls through Instagram in class, invites her new friends over for weeknight kick-backs, and wears designer dresses to go clubbing on the weekends. But no! She's a scam! Cayetana is actually the daughter of a Las Encinas custodian, and she is ashamed that her family doesn't have more money. For no real reason, she has a crush on Polo, and still heartbroken over Carla and reeling from the murder he committed just last year, Polo flirts back. And then, to everyone's surprise, they just sort of start dating? Even after Lucrecia outs Cayetana for being part of the working class, and exposes her plan to have all the rich Las Encinas families come to a gala and donate money to a dummy charity that's really her family's bank account, Polo stands by her. It's all a little puzzling, but the heart wants what it wants — especially when that heart is trying to make sure no one finds out he murdered his best friend's sister. All the Cayetana scenes are such a snooze that even a relationship with Polo couldn't keep me interested in her.
5. Lucrecia and Guzmán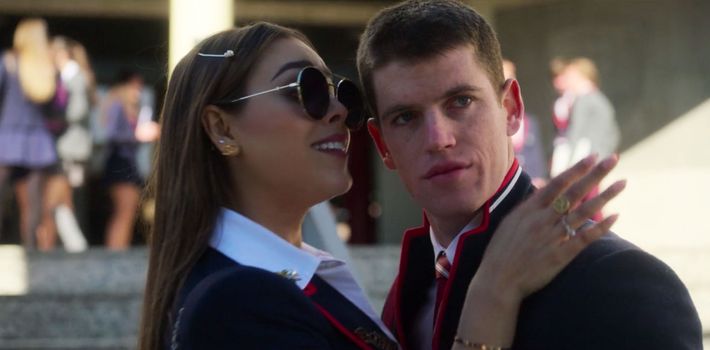 Here is advice culled from the depths of my own group chats: Leave him, sis!!!! He ain't shit! Guzmán is like a walking Future lyric, decked out in a blazer and a backpack: He lies and cheats, drinks too much and does too many drugs, and apologizes for none of it. Lu is holding their relationship together by a thread. She spent the summer with him as he grieved for his dead sister Marina, and resisted fucking her half-brother. And [Faye Dunaway in Mommie Dearest voice] what does she get? A boyfriend who cares as much about the beautiful costumes she buys him as he cares about her! I have a flare for the dramatic, but still. Last season Guzmán acted like he wanted to make it work with Lucrecia, and this season he's going behind her back to engage in debauchery. They should both be dating other people; they can't even pretend to enjoy each other anymore. At least Lucrecia cares enough to put on a brave face! Their only saving grace is that they are both attractive and both love to scheme. By the skin of their teeth, they make it past Polo and Cayetana and Rebe and Samu!
4. Lucrecia and Valerio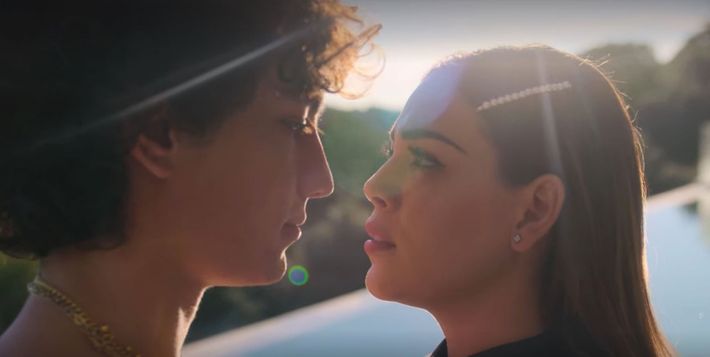 There comes a time in a horny private-school teen's life when she must take matters into her own hands. Maybe her close friend has been brutally murdered at the hands of (allegedly) the older brother of a boy who wished he was powerful enough to be a nemesis. Maybe her boyfriend has been caught kissing another girl with better grades. Maybe her half-brother has just returned from boarding school (or reform school?), and he's just as sexually frustrated as she is, so they, you know … kiss. Maybe they even do more than kiss!
I have gone on the record that I find brother-fucking — or the act of fucking a boy who just happens to be your brother — extremely suspect, and I continue to maintain that position (despite many emails trying to convince me otherwise). That said, this one is tricky! Valerio is hot! He also, just in the most basic ways, pays attention to Lucrecia and is devoted to her happiness. (The Blair Waldorf in me loves a man willing to scheme on my behalf!) Lu and Valerio have hot, sexy chemistry, yes, but that hot, sexy chemistry does not outweigh the deeply chaotic truth of their relationship: that they are half-brother and sister.
3. Nadia and Guzmán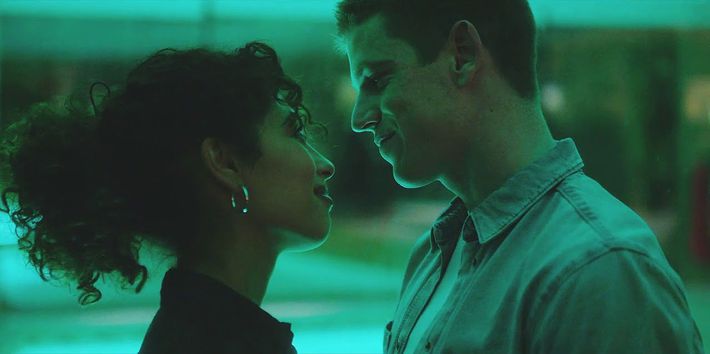 One day Nadia and Guzmán will live happily ever after. That day is never today, though. Instead, we get episode after episode of these two confessing their feelings, rejecting their feelings, ignoring each other, talking in secret, fussing in the hallways, grinding at nightclubs, and then hooking up. They're like actual 17-year-olds, the way that they can't make up their minds! This season, though, they actually do have sex. Twice! (One of those times is, unfortunately, in a locker room, which is sort of hot but also sounds like someone is rolling out the red carpet for athlete's foot.) I wish they could just kiss and make up and break up again at a quicker pace because it's frankly quite tedious. These two are lucky I see it for them!
2. Samuel and Carla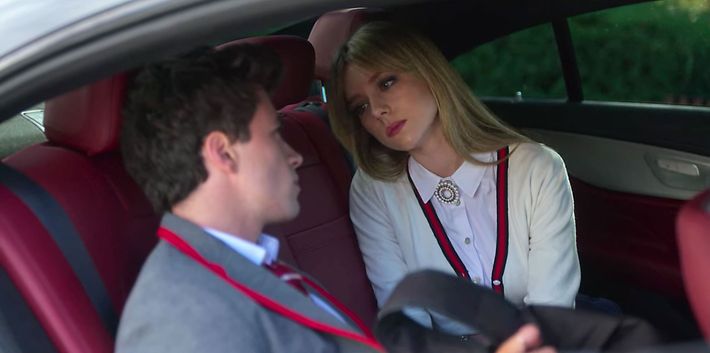 It hurts me to rank these two clowns so highly on this list. Samu and Carla are truly not a good couple! But then again, season two has offered slim pickings as far as good relationships go. Short King Samuel initially set his sights on Carla only to get information that could free his brother — he knew there was fishy business in the Carla-Polo-Christian love triangle, and figured that Carla might know something to free the wrongfully-imprisoned Nano. Carla really ought to have kept her distance, but she reciprocated just to make sure he didn't actually find out anything. Fast-forward to the middle of season two, and these two are actually kissing and clowning all hours of the day and night! It is cute when Samu cooks for her or when she flirts with him, but the facts remain: Samu is impulsive and truly very dumb. Carla is rich and careless, and extremely manipulative. They bone more than anyone else this season though, so I suppose congratulations are due. See you two at the circus!
1. Omar and Ander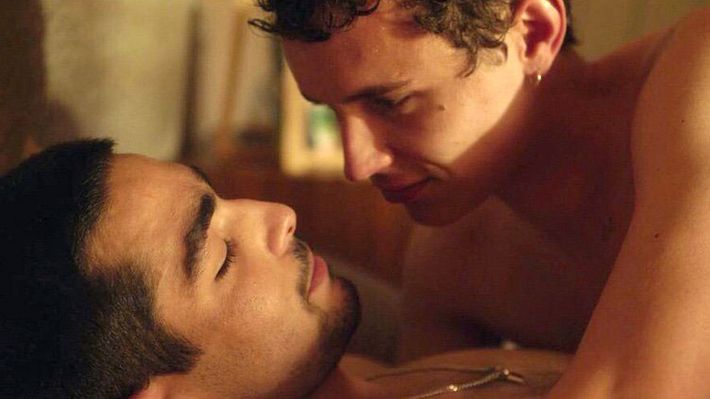 On last year's ranking, Omar and Ander took home the crown, and I am happy to announce this year that they have continued their reign. Season two is especially chaotic for them, Élite's best couple: Omar storms out of his parents' house and moves in with Ander, emotionally absent after he realizes that Polo was behind Marina's death. Ander is caught between doing the right thing and telling everyone about Polo's guilt, or doing nothing and holding his tongue when Guzmán asks him point-blank if Polo killed Marina. He does nothing, but drinks a lot while doing it. He's short-tempered and sour for most of this season, as Omar cleans the house and gets a job at the club (and tries to keep Samu out of trouble). And yet! Omar and Ander are so deeply attractive and have the deepest, longest relationship. Everyone else is just dating or not dating, but Omar and Ander are in love.