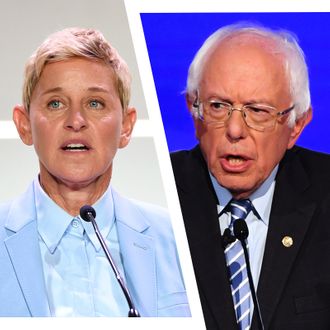 Ellen DeGeneres and Bernie Sanders.
Photo: Shutterstock and Getty Images
We've already had one television personality infiltrate politics, but CNN and the New York Times, who moderated last night's Democratic Presidential Debate, want to add another: Ellen DeGeneres. At the merciful finale of a seemingly never-ending debate, Anderson Cooper asked the last question and it wasn't about climate change, or immigration, or anything else voters might want to hear about. It was about Ellen and George W. Bush, whose name hasn't been heard so close to the word "presidential" since he physically held office.
Each candidate was asked to talk about a person who, despite their differences, they're able to get along with, à la Ellen's recent admission that she's friends with G.W.B. despite all of his war crimes. Everybody makes mistakes? Everybody has those days? Anyway, in response Julián Castro made the distinction that public servants like Bush should be held accountable when those "differences" are affecting everyday people, Tulsi Gabbard talked about former congressman Trey Gowdy, Tom Steyer talked about a clean-water activist, Beto O'Rourke mentioned Representative Will Hurd, Cory Booker said Senator James M. Inhofe, Yang talked about a Trump supporter he converted to the Yang Gang, Kamala Harris talked about Senator Rand Paul, Pete Buttigieg said it's the people he met while fighting in Afghanistan, Bernie Sanders said Senator Mike Lee, Elizabeth Warren mentioned a Republican solicitor general, and both Amy Klobuchar and Joe Biden spoke about John McCain. Cool, but what about the planet?
After the moderators "Sorry to this man"-ed Earth, many viewers, including Governor Jay Inslee, who dropped out of the presidential race earlier this year, tweeted their disappointment about how there was time for an Ellen question, but not for a climate change question. It's not like we're in a rush to solve some sort of climate crisis, right? (Wrong.) Angry tweets below!