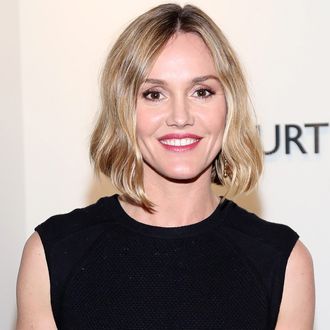 Erinn Hayes.
Photo: Cassidy Sparrow/Getty Images
Last year it was announced that Rashida Jones and Will McCormack were developing a comedy series at AMC titled Kevin Can F*** Himself, and yesterday the network revealed that it had ordered the project to series. The show sounds like a fresh take on the very old trope of the sitcom wife, per the log line: "Alternating between single-camera realism and multi-camera comedy, the formats will inform one another as we imagine what happens when the sitcom wife escapes her confines and forces the world to let her take the lead." The title of the series is a troll on Kevin Can Wait, the now-canceled Kevin James CBS sitcom that ran from 2016-2018 and carelessly killed off the wife of James's character, played by Erinn Hayes, because they were "literally just running out of ideas."
Hayes, of course, loved this new development when it was first announced:
The news of the series order led to a swift reaction from those who saw how quickly Hayes got thrown in the trash by Kevin James: Surely a show about a sitcom wife inspired by Kevin Can Wait might possibly star … the former sitcom wife on Kevin Can Wait, right?
Unfortunately, it sounds like the role Hayes was destined to play isn't happening — at least, not yet. A rep for Hayes confirmed to Vulture that the actor currently has no involvement in the project, which is odd considering she's the first name to come to anyone's mind when reading that show title. Hayes has other projects lined up, including a Netflix comedy with Rob Huebel that sounds like catnip for Childrens Hospital fans, but really, is it too much to politely request for Hayes to be cast in this, or at the very least considered? We don't think so.