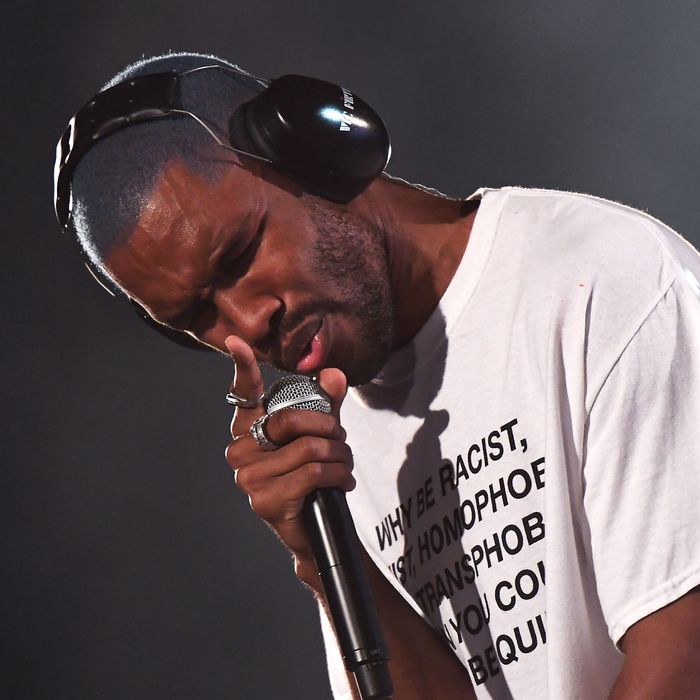 If PrEP+'s aim was to assemble a constellation of queer media and celebrities and force a conversation through them, then everyone is talking.
Photo: AFP Contributor/AFP/Getty Images
Is Frank Ocean circling album mode again? In the last five days, the Blonded team rolled out a new party, a new radio mix, a new single, a bounce remix of Blonde's "Nights," and more. Co-produced by German house DJ Boys Noize, Ocean's new "DHL" is a psychedelic floss track rooted in the cryptic swag rap of 2016's Endless. The lyrics range from devilishly conceited ("Niggas think it's new, it ain't new, boy / Old files just turned two, yeah / Still sound like it's coming soon, yeah"; "Independent juug, sellin' records out the trunk / I'm already rich as fuck, so the product's in the front") to mysterious ("This ain't no fuckin' hopes and dreams prophecy / How'd he sleep? Faith is in the coffee bean") to just plain horny ("Boy toy suck me like a Hoover / Boy toy ride me like an Uber"). The hook flexes about drugs, sex, diamonds, and coming back from trips around the world to new mail at home, name-checking the international express shipping company DHL and the Japanese motor-vehicle company Kawasaki, while geeking over Starbucks and trade, like a queer rendering of the woozy dream sequences of A$AP Rocky's Testing. Eagle-eyed fans are convinced the single's artwork — which contains a series of 13 icons in the bottom right corner, the fourth of which corresponds to the "DHL" cover — is a hint that there's an album on the way. Snippets of new songs called "Dear April" and "Cayendo" suggest more is in the pipeline.
The single was well-received by press and fans, but Blonded's new queer club night PrEP+ is drawing a mixed response. Announced on short notice (and attended by an exclusive list of guests that included musicians, television personalities, members of the press, and more), the event took its name from the pre-exposure prophylaxis treatment (the brand-name drug is called Truvada) designed to help prevent new HIV infections in high-risk communities, and set house rules banning discrimination of all sorts. Ocean intended for PrEP+ to celebrate vibrant New York City queer culture, an "homage to what could have been of the 1980s' NYC club scene" if PrEP had been around to head off the HIV/AIDS epidemic at the pass. The last bit has been the source of some consternation, since, as the storied New York activist organization ACT UP put it on Twitter, "'80's nightlife was revolutionary because of people living with HIV and their caretakers." The comfort of a New York queer space can't be pried off of the experiences that necessitated it. The joy came from pain, pain that none of us should forget, as the nation endures a dangerous bout of cultural and historical amnesia.
A few attendees came home from PrEP+ wanting more. SXYLK — a local DJ and producer who has worked with gifted rappers like Big Momma, bbymutha, and Cakes da Killa — went, then told Fader the party needed more queer DJs and warned that "Brooklyn is becoming the new Portland." (Talent for the night included New Orleans DJ Bouffant Bouffant, Seattle DJ and producer Sango, and London's Sherelle. French house titans Justice headlined.) Out senior editor Mikelle Street lamented that the party "didn't feel queer," noting that event staff manning cameras ran at cross-purposes with the idea that PrEP+ was, on some level, kind of a sex party with a dedicated dark room. Twitter criticism ran hot, drawing a rebuttal from Frank Ocean himself, who defended the theme of the party on Tumblr, stating that his idea had really been to shine a light on the benefits of PrEP and the barriers to access for people who can't afford it, after polling friends and discovering that even people in his own orbit had more to learn: "This pill was approved by the FDA in 2012. The pricing strategy behind it is malicious in my opinion, and so it's (sic) public perception is marred, and rightfully so. But the fact remains that despite price being a very real barrier to this potentially life-saving drug for some, the other very real barrier is awareness."
ACT UP member and PrEP+ attendee Jason Rosenberg — who gave a withering report about door security at the event not recognizing Truvada by sight — wondered over the phone to me on Friday whether the party's mission of creating a dialogue went much deeper than the name and the language in the press release: "I didn't see anything remotely involving HIV or PrEP [inside the party] at all. People knew that the party was called 'PrEP+,' but nothing else." Going forward, Rosenberg hopes Ocean will reach out to groups working on the ground to increase the awareness and availability of drugs like PrEP. (ACT UP suggested routing funds from the party's commemorative T-shirt to the appropriate service providers and justice organizations, if Ocean hasn't already.) If the aim was to assemble a constellation of queer media and celebrities and force a conversation through them, then everyone is talking. As it is now, though, PrEP+ shares the same setbacks as its namesake: It could do more good by being less exclusive.