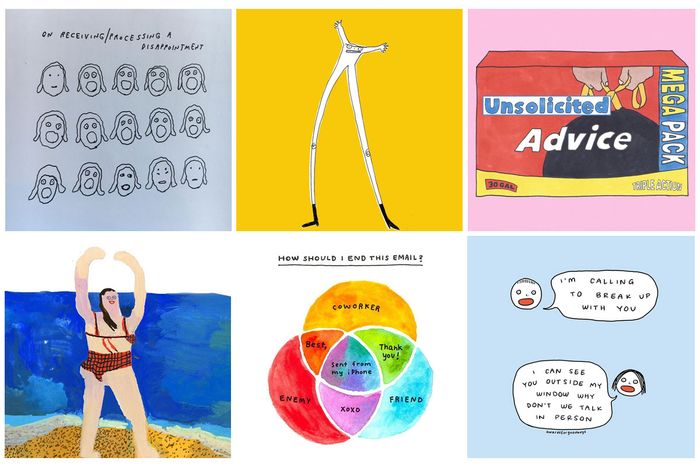 Photo: Vulture, Courtesy of Liana Finck; Ruby Elliot; Grace Miceli; Tara Booth; Michelle Rial and Shelby Lorman
Instagram can be a breeding ground for comedic theft. It's no secret that some of the most-followed comedic accounts, like FuckJerry and the Fat Jewish, gained their massive followings by lifting jokes from comedians and artists without asking for permission, crediting, or paying the original creators. But Instagram has also become a place where original content flourishes. Countless illustrators and cartoonists are sharing their work on the platform, and instead of recycling outdated memes, they're crafting content that's funny, fresh, and unique.
In the wake of #FuckFuckJerry, if you're looking for new funny accounts to add to your feed, you may be unsure of where to start. So, we've rounded up nine of the funniest, most original illustrators and cartoonists Instagram has to offer. Michelle Rial creates dazzling and insightful infographics, while Bjenny Montero takes his followers on psychedelic trips that land somewhere cozy and soft. If you prefer your humor with a bit of bite, there's the acid wit of Liana Finck. Whatever your taste, sweet or sour, one of these accounts is sure to make you laugh.
Tara Booth
Instagram: @tarabooth
Location: Philadelphia
Tara Booth's Instagram first gained a following in 2016, when she posted a multi-panel portrait of herself struggling to pee in a romper. The image circulated widely, and Booth gained over 1,000 followers overnight. Since then, Booth has continued to grow her following, often addressing taboo topics like mental health, addiction, and eating disorders. And Booth doesn't just dabble in these topics, she dives right in. For example, she's portrayed herself eating cake straight from a trash can. She's a classically trained painter, but her lines are wild and free, as if to rebel against the rules she was taught in art school, while simultaneously mirroring her boundary-pushing content. Booth casts herself as a cartwheeling, emotional clown who's both eager to remind us we're not alone in our struggles, and grinning nervously, awaiting our approval.
Ruby Elliot
Instagram: @rubyetc_
Location: London
Scrolling through Ruby Elliot's Instagram feed can feel dizzying. Her mostly black-and-white drawings consist of frenetic lines and hilarious outbursts. "You know when you took drawings home from school and said, 'MUM, LOOK! A HORSE!'? I never grew out of that," Elliot tells Vulture. The heightened version of herself featured in her comics is by turns attention-seeking, panicky, and enthusiastic. Whether she's shouting in a museum because she needs you to see the art she loves right this instant, spiraling because she's unsure if she's funny or good, or simply trying to figure how to sit down the right amount, Elliot's humor is charmingly frantic. You can practically hear her yelling at you through your phone to keep watching her because she's about to do a spectacular trick. The punch line is often that the trick is quite ordinary. Elliot also shares her work on Twitter and releases exclusive artwork monthly with her paid subscribers on Patreon.
Liana Finck
Instagram: @lianafinck
Location: New York
Liana Finck has turned complaining into an art form. The frequent New Yorker contributor recently released her third book, Excuse Me: Cartoons, Complaints, and Notes to Self, a compilation of the Instagram drawings that detail all the experiences and pressures that irk her most. Finck is prolific, posting to Instagram multiple times a day and teasing out her frustrations with deceptively simple drawings. She approaches topics like dating, café etiquette, emotional turmoil, and navigating her artistic career with razor-sharp precision. Reading her comics feels akin to watching a skilled surgeon — she moves deftly from outward observations to introspective frustration, cutting to the core of her irritations with alarming clarity. The result is a humor that feels clean, yet brutally incisive.
Nicholas Gurewitch
Instagram: @perryfellow
Location: New York
Nicholas Gurewitch began sharing his comics on the internet way back in 2004, when he created a website for his comic strip, Perry Bible Fellowship. In 2017, he started sharing favorites from the series to Instagram and mingling classics with new work. Gurewitch has a knack for lulling viewers into a sense of storybook familiarity before knocking them over with bold punch lines. "I do like imagining scenarios that force people to ask themselves questions. I delight in people's confusion sometimes," he says. Gurewitch's jokes range from dark to tender to deeply horny, but they always involve shifts in perspective and logic that delight the viewer. Whether the setting is outer space or a simple stick-figure world, Gurewitch successfully delivers logical twists that create a mixture of existential hope and dread.
Shelby Lorman
Awards for Good Boys was born when Shelby Lorman was struck with a sudden urge to give praise-seeking men exactly what they were asking for. "I had this burning desire to create literal awards to pin to men who demanded praise for not even doing the bare minimum, but a bare minimum we're all scammed into believing is worthy," she explains. Lorman created the drawings long before she decided to share them with an audience, and when she finally started her Instagram account in 2017, she had an ample supply. The awards became wildly popular on Instagram, and are now part of a book by the same name. The premise is simple, but Lorman dives deep into the nuances of what we expect praise for and why. Whether it's the fine print of a marriage proposal turned breakup or the bigger extrapolations to God's judgment of the "good boy," Lorman takes her followers on a fun and often cathartic journey through the absurd logic of entitlement. Lorman says the series has also given her a more intimate understanding of her own relationship with praise: "It's shaped a lot of the nuanced thoughts I have about celebrity and social media visibility, which is that it's all bad." We agree, but you should still log on to Instagram and follow her anyway.
Grace Miceli
Instagram: @artbabygirl
Location: New York
Grace Miceli's humor is as sly and pleasing as the bright, familiar hues of the grocery-store products she repurposes in her drawings. Cereal boxes carry slogans of morning anxiety and depression, and boxes of hefty bags are relabeled as "unsolicited advice." But Miceli's pointed self-mocking isn't the only thing on her feed. She also posts sincere illustrations about making peace with her demons and developing compassion for herself. According to Miceli, when she first began her Instagram she didn't realize how harsh some of her humor was, and posting something less comedic can still feel vulnerable. "It's great when I'll post something earnest and I won't get people laughing at me in the comments. The relationship between humor and sincerity is definitely something I'm working through," she says. For now, however, the mixture of sincerity and humor feels soothing, rendering her feed a sort of safe space for laughing at unpleasant feelings while still tending to them with care.
Bjenny Montero
Instagram: @bjennymontero
Location: Athens
Visiting Bjenny Montero's Instagram feed feels a lot like listening to a favorite record. His colorful, psychedelic drawings hit a variety of soothing emotional notes. In fact, Montero often references favorite musicians and sometimes weaves musical notes and familiar lyrics into his drawings. He began sharing his artwork to Instagram in 2013, and since then he's developed a world of familiar characters, including round-faced frogs, ducks, and dogs whose eyes are always wide and full of wonder. Sometimes cuddly and optimistic, sometimes melancholy and filled with yearning, Montero's art is humorous, but it contains a surprising amount of earnestness. "I used to draw more sarcastic and parody type stuff until I realized it was all coming from a place of insecurity and that it felt so much more powerful just drawing straight from my own vulnerability," he says. "Being earnest can be very disarming." He recently launched a Patreon where fans can subscribe to see even more of what he calls his "doodle bops."
Michelle Rial
Instagram: @michellerial
Location: San Francisco
Michelle Rial began creating her mesmerizing graphics for information you didn't know needed sorting out way back in 2009, when she was working as a production freelancer for New York Magazine. Her charts were originally scribbled in the pages of a notebook. Since then, her style has evolved to include beautiful watercolors, and quirky household items like birthday candles and cheddar cheese sticks. She recently released Am I Overthinking This?, a compilation of her illustrations of intimate and offbeat data. If you like the scent of freshly folded laundry or the smooth feel of a new notebook, her meticulous musings will be right up your alley. Whether she's contemplating the stages of purchasing, caring for, and killing new plants or how best to sign off an email to a friend or foe (or both!), Rial's graphics are peppered with clever insights and coy observations.
Worry Lines
Instagram: @worry__lines
Location: the internet
When the anonymous artist behind Worry Lines first created her account, it lay dormant for a year while she got distracted by work and — true to her chosen name — other worries. Then, last year, she decided to face the challenge of resetting the long-forgotten password, and she's been uploading a drawing a day ever since. The simple, silly images she creates have amassed over 100,000 followers in one short year. Her jokes often address moments of worry with tenderness and a childlike sense of play. In one drawing, a meditating figure muses about the true nature of self, and finds they are mostly potato. In another, neighboring planets express concern over Earth's "humans" problem. According to Worry Lines, the daily commitment can be challenging. She tells Vulture, "Every second day I regret it. And on every third Thursday of the month I think, What's this all about then? But overall I really like it. And I like that other people seem to like it, too. Makes me feel like I'm offering something to someone somewhere." Her gentle drawings are full of movement and funny little reminders to take a break from worrying and to play.