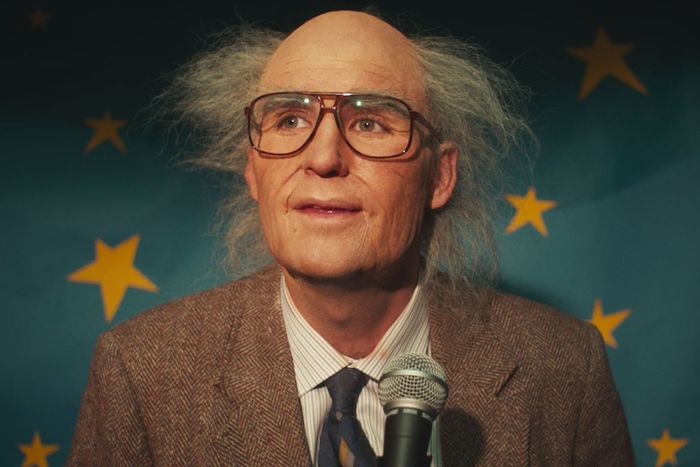 John Reynolds in
To the Moon.
Photo: Andrew Kortschak/Vimeo
As all the would-be goblins and ghouls get ready to hop from house to house grabbing candy, let us remember that there are people out there who don't care much about Halloween (though they eat candy like they're terrified it's going out of style). They're people who have monthly web-video columns on Vulture and bristle at the well-and-good idea of featuring even one piece of spooky content as part of the October roundup. People who are misanthropic, contrarian savages. People like me.
Still, these are some very funny videos. So put your broomstick down — if only until the next round of Milk Duds is introduced to your gullet — and enjoy.
Picture Frames, by Mike Lane
Mike Lane has been featured in this column before, and we're honored to have him back under such auspicious circumstances. To be clear, those circumstances involve Lane teaming up with director-editor Ryan Moulton to make a short about a sweet old man who comes to a local diner to celebrate his anniversary with a framed photo of his late wife, only to have the whole scene devolve into a horrifying spectacle that recounts their messy separation and the husband's eventual murder of a small baby. If it sounds hilarious, that's because it is. Truly. Picture Frames is one of the most inventive and deranged shorts we've seen this year.
Your Worst Fears Confirmed, by Natasha Vaynblat
Comedy Central Studios is killing it lately. Under the stewardship of Above Average alum Jennifer Danielson, the digital network is growing by leaps and bounds in a landscape where web series are atrophying out of their early 2010s prime. Natasha Vaynblat's visionary series Your Worst Fears Confirmed is evidence of this kind of against-all-odds success. In it, Vaynblat poses as that special kind of 21st-century infotainment maven who captures your attention by presenting you with horrifying facts in a relatable way. She'll walk through your worst, most irrational fears in painstaking detail, all while convincing you that they're, unfortunately, entirely rational. Think you can't get herpes from a towel? Think again, fucker. And, yes, you can obviously get pregnant by sitting on your boyfriend's lap. Your Worst Fears Confirmed is a true public service.
To the Moon, by John Reynolds
The last time American treasure John Reynolds teamed up with Marty Schousboe was on the delightful indie flick A Maine Movie. Now the duo is back with Gary Richardson, Jo Firestone, Joe Pera, Carmen Christopher, and a spate of other alt-geniuses in tow, as they bring to life what I can't help but describe as The Jerk if made by Wes Anderson. See, To the Moon begins with a gorgeous, sweeping one-shot up the stairs of an old-town book-and-toy shop where senile sportscaster Barth Pencil (played by an impeccably made-up Reynolds) is getting ready to read from his memoir before a group of rabid fans. Soon he's telling his life story, and we flash back to his humble beginnings as a resident of Ba Dung Dung, Wisconsin, where a 13-year-old mayor reigned supreme. We learn about the major stages of Barth's life: his birth (when he was so slippery the nurses couldn't help but drop him), his first love (a woman who wanted to cannibalize him), his jobs (getting the shit beaten out of him as a friendly local mailman), and catching the break that changed everything while losing the woman of his dreams (Sunita Mani). Sweet, ambitious, and completely absurd, To the Moon is a guaranteed festival darling and proof that Reynolds needs his own vehicle fast.
Luke Kelly-Clyne is executive producer and head of development at Big Breakfast and a watcher of many web videos. Send him yours @LKellyClyne.