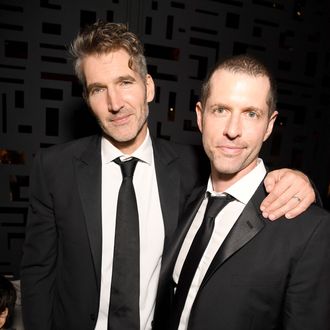 Photo: Jeff Kravitz/FilmMagic for HBO
To the chagrin of many, this week Game of Thrones creators David Benioff and D.B. Weiss walked away from their deal with Lucasfilm to launch a Star Wars trilogy in 2022 due to scheduling issues. For those wondering what a Star Wars movie with a healthy dose of Thrones-style storytelling would look like, you're in luck because the cat is out of the bag regarding the duo's plans for their Star Wars project, which is definitely not happening.
According to Variety, Benioff and Weiss planned to take the beloved Star Wars universe in a "new direction" that would stand apart from the Skywalker family saga that is the linchpin of the franchise. Before dropping out of the project, the Emmy-winning pair were allegedly interested in "exploring how the Jedi came to exist," and execs at Lucasfilm were decidedly … less than thrilled with that idea. Variety reports that the Thrones creators and Lucasfilm execs began to see their creative visions for the project "diverge" last summer, and news that Benioff and Weiss signed a massive $200 million dollar deal with Netflix, a competitor of the Disney-owned Lucasfilm, only widened the chasm.
While we may never get the Game of Thrones take on a galaxy far, far away, we can rest easy knowing that Benioff and Weiss wanted their trilogy to be ambitious and original. Somehow we doubt the finished product would ever be as original as putting a coffee cup in Westeros.