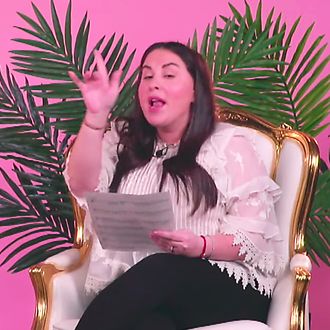 I could detail further but you should probably just watch it.
Photo: The Morning Toast/YouTube
There's a lot going on with Kanye West this week. He's allegedly releasing a new album, Jesus Is King, on October 25. (Don't hold your breath, it's already been delayed for months.) And he just announced he's got another album, confusingly named Jesus Is Born, slated for December. And also, uh, well, he allegedly had Claudia and Jackie Oshry, influencers better known as Girl With No Job and Jackie O Problems, debut a cover of a song off Jesus Is King during their daily YouTube morning show, The Morning Toast. (Verizon's Oath canceled the sisters' show, The Morning Breath, in 2018 for anti-Muslim tweets. In September, Jackie made headlines for refusing to apologize for suggesting shootings are less likely to happen in nicer movie theaters.)
On Thursday morning's show, Claudia read an email she claimed to have received from a woman who works for West. "We love your singing and we'd love to hear your version of a song off the new Kanye album before it comes out to the public slated for Friday. Please see sheet music attached and post a YouTube video if you're up for it," Oshry read aloud. "Not only did I get recognized by Kanye West and his team, they said they liked my voice and then I got his new song. It's very real. It's very legit." The sisters, including Snitch a.k.a. Margo Oshry snapping along, then proceed to perform "Closed on Sunday," first debuted at one of those Jesus Is King listening party false-starts last month. I could detail further but you should probably just watch it around the 2:50 mark.
I have … so many questions?
*An earlier version of this post incorrectly attributed the movie shooting quote to Claudia. It was Jackie. Vulture regrets the error. Jackie, apparently, does not regret hers.