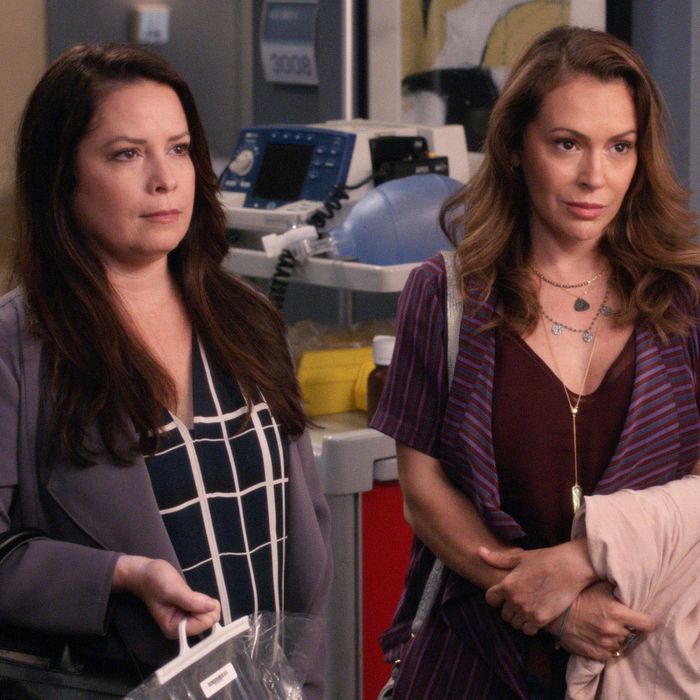 Let's talk about several things that went down on the latest episode of Grey's Anatomy that are bothering me. I am basically the phrase "Get off my lawn!" That's how bothered I am!
First: It was very exciting to see some of our favorite witchy sisters from Charmed, Piper and Phoebe (Holly Marie Combs and Alyssa Milano), reunite on Grey's as part of ABC's "Cast From the Past" stunt. Here, they are estranged sisters Heidi and Haylee (because of course!) who arrive at Pac-North when their third sister (Heather, naturally) falls 30 feet and is declared brain-dead. The two sisters fighting over how to handle it and then finally coming together and mending fences in the end, as they take their sister off life support, is a nice story — until Heidi gets a call from Heather and they learn that the woman Webber just unhooked from life support is not their sister, but a woman who stole their sister's wallet. You guys, this is played for laughs! I mean, Alex talks about it being bad for the hospital, but mostly, it's for laughs! I feel like this is a much bigger deal. I know that woman was a thief, but she's a thief who belongs to someone. Anyway: bothered.
Also bothering me: THE QADRI THING. Like, are you kidding me, Qadri? You get upset that Meredith Grey is fired and can't do a supercool surgery on an old patient of hers even though you still get to scrub in on said surgery with Jo, who is, according to some, also a very good surgeon? You roll your eyes at Jo and Bailey, your superiors, every time they mention that Meredith is gone and also not the Second Coming? You give sass DURING THE SURGERY because Meredith Grey is merely videoconferencing in from the community service she has been ordered by the court to do because she committed insurance fraud? You cry out in the hallway because you only came to Grey Sloan for Meredith and now she's gone? TO BAILEY? And you insult every other doctor in that hospital? Oh, Qadri, you idiot. Do not act surprised that Bailey fires you on the spot. You deserve it, and also there are way too many characters on this show. Again: I! Am! Bothered!
Oh, wait, you know what really bothers me? The fact that the show is setting up a situation in which Webber might cheat on Catherine with Gemma (welcome back, Jasmine Guy!), who you might remember as another one of Ollie's sponsees who showed up at Grey Sloan last season with a stiletto stuck in her chest. Gemma, thanks to Richard's help, works at Pac-North in the billing department, and she and Richard are very friendly and very much going out to dinner to talk about how he pulled the plug on someone who was NOT the Charmed ladies' sister while Catherine is in Chicago and not answering her phone. Richard and Catherine are in a rough place after his abrupt termination, but let's not do this to them. Please! Please don't bother me anymore with this!
The good news is not every story line made me want to hurl my television into the ocean. I do not know how it happened, but I … am … into this thing with Amelia and Link. I can't believe I put that in writing, but the heart is a mysterious thing, we know this!
At the top of the hour, Amelia tells Maggie that she and Link are keeping the baby. When Maggie asks how she feels, she tells her sister she feels "bewildered." She's excited, of course, but also scared out of her mind. She's not ready to tell anyone else. And then she goes to work and gets distracted working on a case in which an older Korean woman who can't speak English is found wandering the hospital calling out "Bird! Bird!" and has been admitted for dehydration until they can figure out what to do with her.
Meanwhile, Maggie's doing an easy-peasy operation on a man named Bertie, who is all about getting his steps in and posting updates about his surgery on Facebook, and generally being a very endearing grandpalike figure in the halls of Grey Sloan. While Maggie's placing a stent to fix some blockages in his heart, he's awake, and he starts talking about regrets he's had in his life, mumbles something about being too early at a train station, and declares that love is everything.
Post-surgery, Bertie's walking with Maggie to get his steps in and they run into Amelia and her patient … and he knows her! And Bertie is that "bird" the woman's been talking about! And they were each other's first loves.
The two met when he was a soldier in the Korean war and they fell in love, only able to communicate through a dictionary. She was going to come with him when he was leaving the country, but his train time was changed and he had to leave, never seeing her again but always regretting it. Sooyoung, through Nico, who is interpreting, confesses that she didn't even go to the train station at the agreed upon time — she was too scared to leave her family and her home. She regretted it. And then one day she found him online and saw his posts about his surgery, and so hopped on a plane to Seattle to reunite with her long lost love. BE STILL MY HEART. Maggie and Amelia listen to this incredible story and can't help but be moved. Love, you guys! Love!
The tale of regret and missing out on something great because of fear inspires Amelia to fully embrace her pregnancy. She wants to stop being scared and share the good things in her life. So she and Link go for a supercool hangout with Meredith and DeLuca in which she drops the big ol' pregnancy bomb right in the middle of a conversation, and friends, you've never seen Meredith so excited. She scoots right in the middle of Amelia and Link and tells her she is so happy to be Auntie Mer. It is adorable and very positive for someone who is spending her days cleaning beehives out of toilets while waiting to learn if she'll be stripped of her medical license and have her entire career ruined. I guess that's just life, huh? All about the ups and downs!
Laughter Is the Best Medicine, Apart From Real Medicine
• Tom's restraining order on Owen can't last forever, can it? Tom making Owen leave whenever he arrives is already getting old, and it's only been one episode! Thankfully, Owen decides he wants to stay at home with Allison and have Teddy come back to work — they hang out in the hospital all day, and Owen's never seen Teddy happier. She needs to get back in the OR.
• Schmitt pulls a Schmitt and accidentally drops a guide wire into a patient's body while trying to put in a catheter, a very basic procedure, and almost kills the guy. DeLuca takes the brunt of Bailey's ire for it since he was in charge (and is still on Bailey's Angry List). When Nico hears about it, he won't stand for having a boyfriend unwilling to live up to his potential and demands Schmitt go to the skills lab and practice until he can do it perfectly. But also he'll be there and he'll bring pizza because those two are very cute these days, and as Nico points out, he's "not dead inside."
• A round of applause for the most awkward arm pat in the history of awkward arm pats, please! Maggie and Vic run into each other in the hospital — after Vic and Jackson have run their faces into each other while he was stitching up a cut on her forehead — and Vic doesn't want things to be weird between them, but honestly, has she ever met Maggie Pierce before?
• Wait, an even bigger round of applause for the Meredith-DeLuca "Morning Community Service Drop Off" make-out session. We need more steam this season!
• Meredith's joy was not relegated to news of becoming an aunt: She sees Bokhee in the operating room over the video chat and can't contain herself! Who is this Meredith?!
• "You're fired. Now you and your hero have something in common." Angry Bailey is Savage Bailey (and I love her).
• "A psychic is not a therapist!"