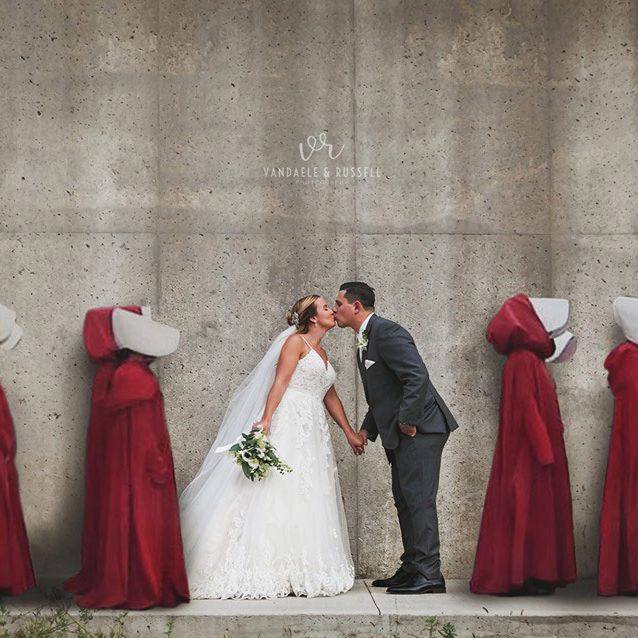 The
Handmaid's Tale–
edited wedding photo in question.
Photo: VanDaele and Russell Photography
Kendra and Torsten are two Canadians who got married last month. You'd likely never have heard of them were it not for their wedding photographers, who, well, edited a photo from their nuptials to include several red cloak–clad handmaids from the Hulu show based on Margaret Atwood's seminal text, The Handmaid's Tale, and posted it on Facebook and Instagram. (Handmaids are, in case you're unfamiliar, fertile women living in Atwood's dystopia of Gilead who are ritually raped every month.) The couple was married in Cambridge, Ontario, and the photo in question was taken in front of a wall known in the series as the "hanging wall." It's where lawbreakers, like LGBTQ+ people, a.k.a. "gender traitors," are killed for their so-called crimes, their bodies left on display as a warning to others.
Online, the reaction has been what you'd expect. People have found the edited photo to be in poor taste and to be "missing the point." The photographers have been responding to comments on Facebook, where the photo has been shared over a thousand times and received twice as many comments, with a boilerplate statement. "What's sad is that everyone is REACTING exactly as expected — just like in Gilead — and missing the opportunity to think for themselves, to educate themselves and become ENGAGED ACTIVISTS instead of simply keyboard warriors. We'd love to see you out in the streets participating in women's marches, supporting equal rights for everyone regardless of their sexual orientation, and so many other important causes, instead of sitting here scrolling through Instagram, knee-jerking your way through comments," reads a snippet.
"We've shot at Cambridge Mill (where it's filmed) MANY times, so no, there was no trepidation about shooting there. The couple are actually photographed on site, the rest is Photoshop," one of the photographers, Shawn Van Daele of Van Daele and Russell Photography, told Vulture via email. (He was en route to shoot another wedding.) "As Clint [Russell] & myself are actually a gay married couple (in Canada thankfully), the image and entire show touches on the oppression faced by the gay community, women, and many other minority groups. It's deeply personal, and a shame people are attacking without first learning." Van Daele said he's no stranger to going viral, mentioning a prior series where he edited photos of kids with serious health conditions into magical scenes. "If the Handmaid's Tale profile posted it themselves, it would be an entirely different reaction from everyone. The behind-the-scenes pics Handmaid's always post are received with so much love, while they're out there having fun while filming it," Van Daele said.
I asked if the photo was the couple's idea or the photographers' idea. Van Daele described it as "bit of a team effort," adding the photos on the wall were the groom's idea. "We discussed options but figured walking handmaids were a better alternative to hanging bodies 🤷🏻‍♂️🤦🏻‍♂️," Van Daele wrote. "They [the couple] saw the photo prior to me posting it but none of us ever anticipated people reacting the way they are." He also stressed that the handmaids are not real, as many online errantly believe. "It wasn't a mockery. It was more of a, 'we should photoshop in handmaids,' since it would seem the logical thing to do. I also teach Photoshop."
"It wasn't a focused shoot that it was what we went out to do. We were doing their wedding photos. This is one photo of thousands that are not Handmaid's related. It was a nod to the show as they were married where it was filmed," Van Daele wrote. "The couple as well as ourselves are HUGE fans of the TV show and, obviously, first, the book. Anyone who would put out an image like this without understanding what it implies has bigger problems than upset people on social media. I knew when creating the image that it would possibly upset people, but that's sort of the point … to WAKE PEOPLE UP." Reflecting more on the response, he added, "Everyone loves a good witch hunt … Apparently today we are their witch."
And now, by the power vested in me by the state of the internet … I now pronounce you Husband and Ofhusband.