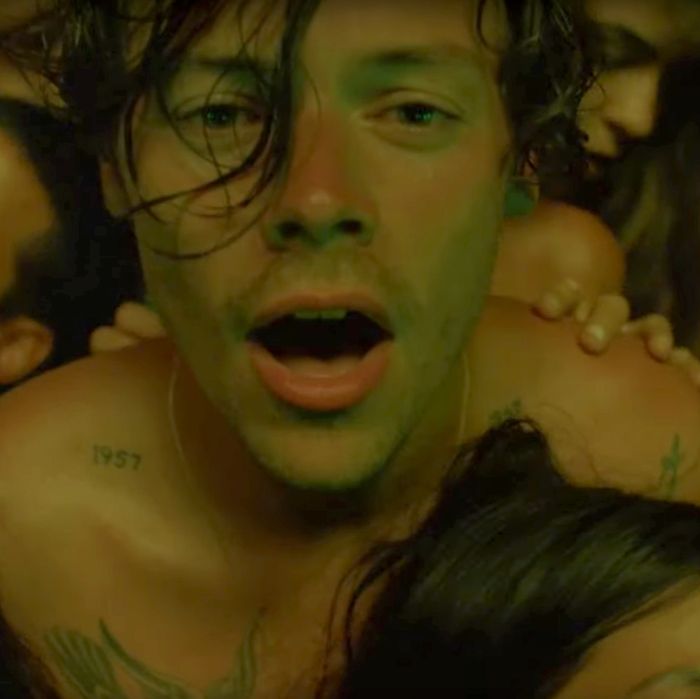 Is this all just very tasteful signaling, or is it the model of how celebrities can use their platforms as allies and advocates?
Photo: YouTube
One Direction solo singles come in waves. Louis Tomlinson's out revisiting '90s neo-psych with his latest song "Kill My Mind," while Niall Horan's "Nice to Meet Ya" plays its rave-happy twin, a bit of Stone Roses to supplement Louis's Oasis. Zayn Malik's digging deeper into electronics with "Rumors" and "Trampoline" while Liam Payne's a Boogie Wit Da Hoodie collaboration "Stack It Up" sustains his streak of sleek R&B tracks and team-ups with hit-makers in rap. The abrupt return of Harry Styles this week completes the 1D pentagon with the new song "Lights Up," a step back from the studious classic rock aesthetic powering his self-titled 2017 solo debut, in a manner of speaking.
"Lights" sounds like the kind of well-tailored pop the band would've gotten to if it had a few more years to work with, but like Harry Styles, it's packed with organic flourishes, guitars galore, gorgeous piano notes scattered over top of the bridge and chorus, and a barely audible touch of what sounds like Mellotron, ground control saluting our fallen Major Tom. Styles was enthused about Van Morrison's Astral Weeks and Joni Mitchell's Blue in his most recent interview, both stripped and illuminating folk-rock classics, so there is the chance that the pure pop vibes here are a ringer for stiffer and starker music down the line. Time will tell.
The spiciest detail in all of this is the timing: It's National Coming Out Day in the States, where, for over 30 years, LGBTQ Americans have spoken their truths and celebrated their journeys. Much will be made of "Lights Up," its lyric about piercing the darkness in our hearts with radiant light, and its video, in part a steamy party with bodies gently jostling and caressing each other, where our protagonist snuggles with men and women and cruises through scenes lit sometimes subtly and sometimes not, with neon reds and pastel pinks and blues.
Styles is the face of Mémoire d'une Odeur, Gucci's new ageless and genderless fragrance, and has worn pieces created by gender-fluid British designer Harris Reed. Is this all just very tasteful signaling, or is it the model of how celebrities can use their platforms as allies and advocates? Does it matter which? Styles doesn't owe us more than he wants to tell us, and it's not wise to assume that pop lyrics come from personal experience. Come what may, "Lights Up" is a breezy tune for the start of hoodie weather and an encouraging sentiment for a day about celebrating what makes all of us unique.