Photo: Spencer Platt/Getty Images
Harvey Weinstein has been glimpsed only a few times in public since he was accused of the rape and sexual assault of nearly 80 women. But last night at New York's Downtime Bar, which was hosting an event called Actors Hour, described as a "pop-up speakeasy designed for artists to indulge in the joy of performance," Weinstein showed up and sat at a private table, surrounded by men and several women, in a space allegedly dedicated to "endless networking" for up-and-coming young comedians, artists, dancers, and actors.
As several New York–based performers who were in attendance have since reported, comedian Kelly Bachman was the first person to publicly call out Weinstein, beginning her set by asking, "Are we going to address the elephant in the room? I didn't know that we had to bring our own Mace and rape whistles to Actors Hour." She was roundly booed and, as comedian Amber Rollo tweeted, "told to shut up." (Bachman and Rollo have since spoken to the Cut about the incident.)
After intermission, according to Rollo, "a young woman started yelling about him being there. She was shouting and crying and seemed to be the only sane person there. SHE was kicked out [by the event organizers]. What the actual fuck?" Actor and audience member Zoe Stuckless (who uses they/them pronouns) is the person in question; you can see the full confrontation in the video below:
This morning, the organizers behind Actors Hour — including actor and producer Alexandra Laliberte — posted a statement on Instagram about the incident, explaining that Weinstein was "NOT invited" and that they "apologize wholeheartedly for the way the situation was handled." Nearly every commenter on the post called the statement "bullshit," with one person claiming that they'd seen Weinstein at previous Actors Hour events. Rollo had previously tweeted that the organizers explicitly invited Weinstein. The Actors Hour's Instagram post has since been deleted.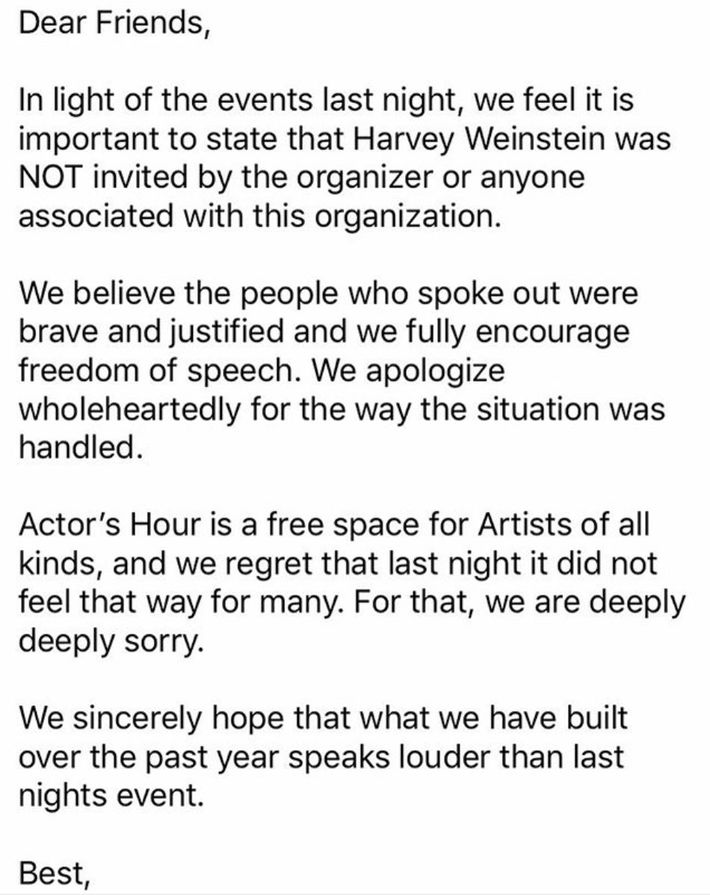 Weinstein has since provided a statement to TMZ via his reps: "Harvey Weinstein was out with friends enjoying the music and trying to find some solace in his life that has been turned upside down. This scene was uncalled for, downright rude and an example of how due process today is being squashed by the public, trying to take it away in the courtroom too."
To get more of the story behind Weinstein's appearance and the event organizers' role in the incident, Vulture reached out to Stuckless, who had yet to share their story outside their Facebook account. We also reached out to Actors Hour and Laliberte for comment but have not yet heard back.
Can you tell me a little bit about how you ended up at the Actors Hour?
I'm an actor in NYC. I moved here relatively recently, about a year and a half ago, and I was going to school and finished up and have been working professionally and going to a lot of actor events, which is what the thing last night was. I'm trying to be active in my community and in theater and film.
It's a private event — you have to get a ticket, and they don't tell you the address until you've already gotten your ticket and it's close to the time of the event. A friend of mine had gotten me a free ticket, so she invited me. it was sort of pitched to me as an event that was meant for emerging artists — to give specifically young artists a platform, to create an open space for artistic creatives to share their developing work. It was musicians, comics, dancers.
How many people perform, usually?
It was my first time going, but at least in the first act, I would say there were at least six or so acts. Some were duos. There were musicians, comics.
And how many people are in the room, total?
Maybe 50 people. It's really small. So there was no way Harvey could have gone unnoticed.
When did you notice Harvey was there?
I'd gotten there an hour early, and he'd gotten there maybe 30-45 minutes early. I noticed him come in, but I didn't realize it was him. He was using a walker. He didn't have his glasses on. He was very much presenting an image of this meeker, older person. I noticed him but didn't think anything of it.
Who was he with?
There were two women on either side of him. Later-20s, early-30s model women. There was a blond guy, in a nice suit — he looked like a business type. They were sort of laughing and talking shop. And there was a guy who was sort of a scout — he seemed like a bodyguard. And a couple people came and went.
Were people staring at him?
Not really at all. When people did, the organizers would sort of stand in between his table and the rest of the crowd.
When did you realize it was him?
I was at the table right next to him, maybe five feet away. After a while, my friend leaned over and was like, "Hey, I think that's Harvey Weinstein." And I looked over and I was like, "Shit, that looks a lot like him, but surely there's no way. There's no way he'd be here, at this event specifically for the community that he terrorized for so long. There's no way he'd be allowed to be here." So I pulled up pictures and was comparing them to him, but the people around us were like, "Oh no, there's no way, it's totally not him."
So I put it out of my mind a little bit. But as the show started and acts started going up, I kept looking back and being like, Is that him? I wasn't certain until the first comic [Kelly Bachman] came up and called him out.
What did she say, exactly?
She opened up her set and said, "Can we talk about the elephant in the room?" The second she even said that, all the bartenders and a large portion of the crowd and the event organizers all started booing her.
The event organizers booed her?
Yes. They booed her — and she never actually said his name! I looked over at him and could see him put his head down and cover his face a little bit. After that, she said onstage that she was a survivor of rape, and she went on with her set as this whole crowd booed her. It was so strange. I started second guessing myself. I was like, The crowd must have been booing at him. Because clearly they would never boo at her for pointing him out.
When her set finished, I was sure that the event organizers would come up and say something and remove him. Or that the event staff would quietly kick him out or something, or somebody would say something. Instead they just rushed into the next act.
What happened next?
The next few performers went up. And at that point, I was looking around, trying to see what everybody else was doing, trying to figure out what to do. I was waiting for somebody to say something, somebody who I felt would have had more authority than I did. I felt like I was just a nobody, an audience member; I had no reason to speak up.
Another comic went up, a man from out of town. He mentioned he was from Florida. And he started his set in the exact same way, by saying, "We gotta talk about the elephant in the room." I looked over at Weinstein and I was like, Now's the time, he'll say something. And the comic said, "Yeah, who's the elephant that produced Good Will Hunting? Cause that shit was amazing!"
Wow. Do you know who that was?
No, I don't know his name. He did his set and walked off the stage, and walked through this tiny bar, and goes past Weinstein's table. He stops, they exchange a couple of joking words, and they're like laughing and smiling.
At that point, there was some little part of me that was still sure that somebody else would say something. And they didn't. They went into the next thing. I knew the show was going toward the intermission, and so I said to myself that if nobody else said anything, by the time we got to the intermission, I would say something. And the intermission hit; nobody said anything. Nobody did anything.
I stood up and I walked over to Weinstein's table and I said something to the effect of, "Hey guy. What's your name?" Because I wanted him to say it. And he didn't say anything. And I was like, "What's your name?" And he said, "What's your name?" And I said, "My name's Zoe. What's your name?" His posse, his group of men and a bunch of women — which was so gross — they all started being like, "That's none of your business, you don't have a right to ask that question.  Go away." That's when the video starts.
Then they kicked me out, which I completely expected. They sort of gradually herded me up the stairs. But a bunch of the performers had come out with me, and left with me. So there were a lot of people that were like, "Thank you for speaking up. I felt the same way and didn't think that I could, or I had enough power to." [Bachman], who had been booed into submission, thanked me, which was so strange. Because I wouldn't have said anything if she hadn't.
Have you heard from anyone today from the event's side?
Nobody has talked to me directly. I went on the [Actors Hour] Instagram page and saw they'd released a statement. They "hadn't invited him and were so sorry and they totally would've intervened if they noticed." But the fact is, the team prioritized his comfort over the comfort of the people that they were supposedly creating the event for.
And you saw that they noticed he was there?
They absolutely noticed. I was reading through comments from others and they were like, "He was there the last time I performed. He reserved a table last time."
Oh my God.
Somebody I know who's friends with the creator [Laliberte] told me that she made a personal post saying that she was upset somebody had spoken out. It was so surreal. I was so certain that, especially in this community, of course somebody with power has got to stand up. Somebody must. And then nobody did. It's stunning that it's so easy and so quick to slip back into that same culture of silence that allowed him to do all of those horrendous things.