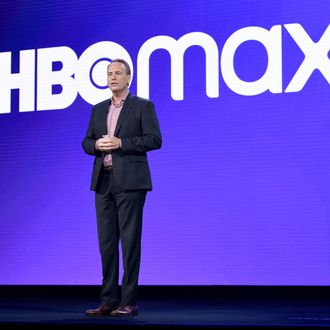 HBO Max chief Robert Greenblatt.
Photo: Presley Ann/Getty Images
HBO Max, the new streaming service from AT&T-owned WarnerMedia, will launch next May and cost $15 per month — the same price the company now charges for HBO. That means current HBO subscribers will have access to the supersized streaming service at no additional cost. What's more, 10 million AT&T customers with select mobile and TV bundles will also get access to the service for free. The move, announced Tuesday at an investor event on the Warner Bros. film lot, assures HBO Max will debut in at least 34 million homes as WarnerMedia sets out to meet its target of 50 million U.S. subscribers by 2025, and up to an additional 40 million international subscribers by the same time.
The news ends months of speculation over how much WarnerMedia would charge for the new service. It's also somewhat surprising: Execs at WarnerMedia and AT&T had been telling reporters the Max service would cost a few dollars more than traditional HBO's going rate. The company clearly decided, however, that it didn't make sense to create a tiered system, which might confuse — or even anger — current HBO customers by making them pay more for something with the HBO branding. Making so much content available to so many at no extra cost won't be cheap: The company says it'll spend $4 billion in the next couple years building the service. But the bet is that AT&T can get another 16 million people to pay $15 per month by 2025, dramatically boosting revenue and building a strong, direct relationship with consumers as the cable bundle starts to crumble.
At launch, HBO Max will offer about 10,000 hours of original and library content — a big number, but not overwhelmingly so, HBO Max execs argue. That's by design, since they say consumers get overwhelmed by too many content choices. "We think our value proposition improves when we remove the filler nobody watches anyway," HBO Max chief Robert Greenblatt told investors, in a subtle swipe at Netflix's endless array of programming. Still, it's not as if Max will be slimmed down: It plans to produce 31 original movies and series in its first years, which when combined with HBO's planned roster will give the service 69 original titles. That number will jump to 88 by 2021. The streamer will also offer 1,800 movies when it debuts, plus film franchises like The Matrix, Lord of the Rings, and the DC superhero movies available within the first year. The goal is to "appeal to all demographics in a household," Greenblatt said.
In another departure from the Netflix norm, most shows will roll out new episodes weekly rather than dropping full seasons at once. And rather than rely solely on a computerized algorithm, there will be curated collections of shows and movies (not unlike what HBO does on its app), while the service will also lean into "human" recommendations. Celebs and others will put together playlists of content they enjoy, sometimes augmented by short videos where they talk about their picks. (At Tuesday's event, the company showed off a video of Zac Efron gabbing about why he loves The Exorcist.) It'll also offer shared viewing profiles between friends and family members, part of a plan to aid and encourage co-viewing. As for the user interface, a peek at the early shape of the service indicates it'll look similar to the current HBO Now/HBO Go offering, but with a far deeper content library and branded hubs highlighting various parts of the WarnerMedia empire.
As previously announced, HBO Max will be an ad-free service while AT&T will launch an ad-supported (and less expensive or possibly free) version in 2021. Once that ad-supported offering is up, HBO Max will start adding live TV offerings and live event programming. One possible stumbling block for HBO Max's rollout plan: In order to give current HBO cable customers free access to Max, it will have to get its current cable partners — think Spectrum or Cox — to sign off. While it might seem they'd have no issue letting their subscribers get this benefit, it's possible they might not want to encourage folks to leave the linear world of cable for the HBO Max app. But that ship may have sailed, since cable customers now regularly give their customers the ability to use HBO GO, a mirror version of HBO Now.