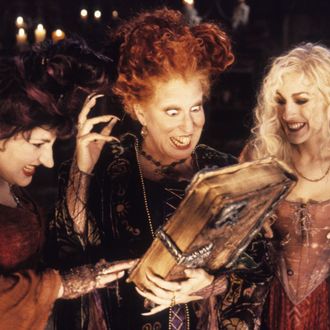 Photo: Buena Vista Pictures
Come, little '90s kids, I'll take thee away, into a land of enchantment. We're paraphrasing, but that seems to be the Disney+ business strategy before its launch on November 12, and it's right out of the Sanderson Sisters' spell book. In the streaming service's latest conjure from days of yore, Disney is planning to beckon millennials into its lair with a long-awaited sequel to the 1993 unlikely Halloween classic Hocus Pocus.
According to Collider, Disney+ has hired Workaholics writer and co-producer Jen D'Angelo to pen the script for Hocus Pocus 2. Who couldst hath foretold such a development? In the decades since the original film's premiere, it has become all but enshrined as a holiday staple, thanks in large part to its airings on Disney Channel and Freeform in October. No director is pegged to the project yet. Although High School Musical director Kenny Ortega helmed the original film, he notably signed an exclusive development deal with Netflix earlier this year.
As for the cast, when Hocus Pocus reboot rumors were brewing back in 2017, Deadline reported that the original Sanderson trio of Bette Midler, Sarah Jessica Parker, and Kathy Najimy wouldn't be returning. Those rumors were surrounding a Disney Channel remake, however. Now that it's a sequel, maybe the original Sandersons will return, after all. Jen D'Angelo also co-starred with Nicole Byer on Loosely Exactly Nicole, and now that we think about it, Byer would make a phenomenal Winifred. And might we humbly suggest Timothée Chalamet as cursed catboy Thackery Binx?
Either way, congrats, virgins!