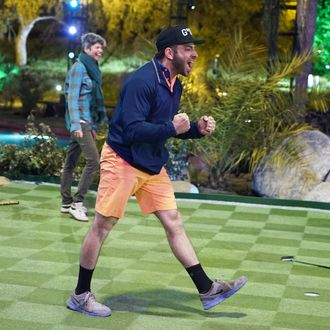 Photo: Eric McCandless/ABC
If you're a fan of Holey Moley, here's some good news fore you: A little birdie tells Vulture that ABC is teeing up another round of the network's delightfully bonkers miniature-golf-themed game show. The Alphabet today will officially announce that it has renewed the Steph Curry–produced Holey Moley for a second season, with the series set to return summer 2020. Rob Riggle and Joe Tessitore are onboard to return as as the show's color and play-by-play commentators, respectively, with Jeannie Mai back as sideline correspondent, but there will be at least one tweak to the show's format.
In case you're not familiar with the concept behind the series, our Jen Chaney summed it up in her review, noting the series "combines the obstacle-course features of [American] Ninja Warrior — or, more accurately, the defunct ABC series Wipeout — with mini-golf, resulting in holes that have classic mini-golf obstacles but also zip lines and rolling logs that could knock a less-than-alert golfer out cold." That won't change in season two, but rather than trying to squeeze in 12 players during each hour-long show, episodes will now revolve around just eight competitors. The move will allow the hosts to spend more time on each match and let viewers get to know all of the players better. Producers are also planning to introduce an assortment of new holes to challenge contestants, hoping to top season one standouts such as "The Distractor," where annoying or famous folks — like Kenny G! — tried to mess up players as they made a putt. Curry will return with a small on-camera role as the show's resident golf pro. Chris Culvenor, Paul Franklin, Wes Dening, Charles Wachter, Michael O'Sullivan, Jeron Smith, Erick Peyton, and Curry are all back as executive producers of the show, which was created by Culvenor via Eureka Productions.
During its first season last summer, Holey Moley averaged 3.8 million viewers per episode and notched a 0.8 rating among adults under 50, right on par with the network's other Summer Fun & Games unscripted series. It also built on its Thursday lead-ins by over 20 percent in total viewers, giving ABC its best summer numbers in the 9 p.m. slot since 2015. ABC hasn't yet officially announced renewals for its other summer games, but sources familiar with the matter expect most, and likely all, of the network's game-show lineup to return, including 2019 newbies Press Your Luck and Card Sharks.