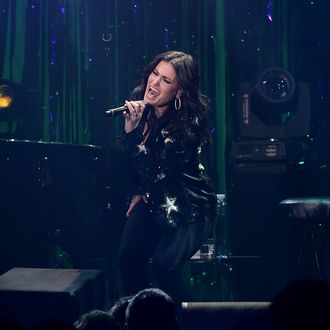 Photo: Michael Loccisano/Getty Images
We couldn't blame John Travolta if he were to wake up gasping in the middle of the night, awash in a cold sweat. Sometime very soon, he might find himself back at the Academy Awards, welcoming Idina Menzel to the stage once again. Might as well start practicing her name now, because according to Variety, the Frozen 2 star is in talks to join Sony's upcoming Cinderella film as the tale's evil stepmother. The news arrives after Thursday's report that Billy Porter is in negotiations to join the film as the Fairy Godmother to Camila Cabello, who will play the titular role.
The new Cinderella will reportedly be written and directed by Blockers director and Pitch Perfect screenwriter Kay Cannon, with Cabello contributing music. If it makes John Travolta feel any better, even if he whiffs it pronouncing both of their names, the duet they should have in the film will make everyone forget about his flub. Just kidding, we will never forget a flub.