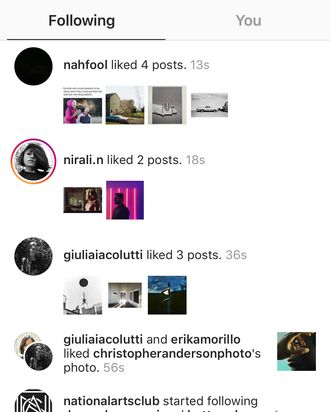 Dearly beloved, we're gathered here to say our goodbyes. Our friend and ally in stalking horndogs, the Instagram following-activity tab, has gone to the great content mill in the sky. The deceased, or rather the absence of the deceased, was first discovered by BuzzFeed. "We're always working to make Instagram the best space to share and connect with the people and things you love," an Instagram spokesperson told Vulture on the change. "While this includes introducing new features, it also means removing old ones that may no longer be useful."
Born in 2011, the tab was best known for its unwavering commitment to truth-telling. If Instagram is a social-media landscape of smoke and mirrors and curation, the following-activity tab was its reality check. The tab showed you, as its name implies, the activity of the people you are following: what they were liking, what accounts they were following, what they were commenting. That college friend you still hate-follow whose only interest is puppy content? The tab would show you that. Your boyfriend liking countless pictures of Emily Ratajkowski in various states of undress? The tab would show you that, too. The tab will certainly be remembered for its brutal honesty and admirable reliability. And for that, we salute it.
Those closest to the tab will remember their years together fondly. (Instagram also claimed not that many people were actually using the tab anymore.) Personally, I will always be grateful for that time the tab showed me a particular high-school classmate of mine who had developed an unsettling obsession with guns and Blue Lives Matter. Additionally, for letting me know which of my friends are frequent over-emoji commenters. (Clearly equal offenses.) Rest easy, tab. Say hi to Gchat up there for us.