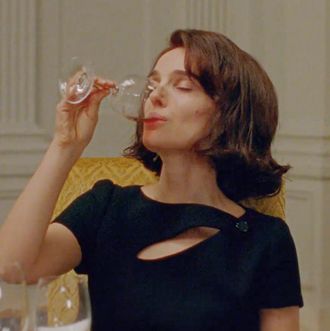 Photo: Fox Searchlight Pictures
More excerpts were released Wednesday from Ronan Farrow's Catch and Kill: Lies, Spies, and a Conspiracy to Protect Predators, the book about the reporter's efforts to disclose years of sexual harassment and assault allegations against powerful men in media like Harvey Weinstein and Matt Lauer. An unlikely little movie makes a cameo in the middle of Farrow's book, however: the 2016 horror-biopic Jackie, which starred Natalie Portman as the First Lady in the days immediately following JFK's assassination. Jackie was written by NBC News president Noah Oppenheim, whom Farrow alleges worked behind the scenes to orchestrate a cover-up of his revelations about Weinstein, and did not act quickly enough when NBC was confronted with allegations about Lauer.
Farrow maintains that he had much of his Weinstein reporting ready to run on NBC, when Oppenheim refused to pull the trigger, and, instead, was privately friendly with both Weinstein and Lauer. (There seems to be more than a little bad blood between Oppenheim and Farrow, who reportedly is banned from appearing on MSNBC.) Here's where Jackie gets dragged — and I mean dragged — into this, courtesy of Variety.
Some people (ahem) believe that Jackie is an impressive work of art. Other people — apparently, David Remnick, Mia Farrow, Ronan Farrow, and also my best friend Molly — do not feel this way. Observe these excerpts from Catch and Kill, where Ronan Farrow refers to Jackie as a "morose biopic" that "featured a lot of dialogue-free long shots of the woman in question pacing around with tear-streaked mascara." Objectively, these observations are correct. Subjectively, however, this is what makes Jackie great.
When Farrow took his story — complete with recordings of Weinstein trying to bully Ambra Gutierrez — to the New Yorker, editor-in-chief David Remnick asked who would be foolish enough — or ignorant enough — to let a reporter with a story this important leave their office. Farrow told him the executive thwarting his reporting was the same executive who wrote Jackie. Here is what the editor of the New Yorker replied, according to Catch and Kill: "'That,' Remnick said gravely, 'was a bad movie.'"
It is worth noting that, again, Remnick did not say this snidely, or even under his breath. He said it gravely. Ronan Farrow is right about every single thing except for Jackie: Morose and tear-stained is actually very good!
Update, 10/17: Ronan Farrow actually likes Jackie's music. In an interview with Vanity Fair, he was asked if he "really hates" the biopic, which was written by president of NBC News Noah Oppenheim. "It was incredibly funny going through the transcripts and discovering this running joke of people having this opinion about Jackie, but for what it's worth, in the full unabridged conversations, every single time I pivoted to talking about how much I loved the score," Farrow said, gracefully sidestepping any evaluation of the movie itself. "Mica Levi is amazing, and I love her work on Jackie. Natalie Portman is amazing in that movie. So, sadly, the book, which had to come down from 1,000 pages to 450, is silent on my opinions about Jackie." Catch and Kill should've had more crying, more cameras, and more opinions about Jackie.