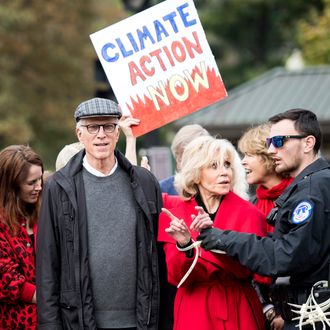 How many points does this get you in
The Good Place
?
Photo: Bill Clark/CQ-Roll Call, Inc via Getty Images
The hot new place for celebrities of a certain age to be seen is next to Jane Fonda at rallies to stop climate change from permanently wrecking our planet. Today, Fonda went into the third week of her involvement in regular protests dubbed "Fire Drill Fridays" at the Capitol, and was arrested yet again, this time alongside TV's own Ted Danson. As covered by the Washington Post's Hannah Jewell, Danson introduced himself as Jane Fonda's "new trainee" when he and Fonda spoke to an assembled crowd before they headed toward the steps of the Capitol Building to be arrested.
Last week, Fonda was arrested with her Grace and Frankie co-star Sam Waterston. She has said that she plans to continue protesting "every Friday, rain or shine, inspired and emboldened by the incredible movement our youth have created." Plus, there's a seemingly endless list of other actors she could probably recruit to come along with her. How soon until Jane Fonda gets arrested alongside the entire cast of Book Club?