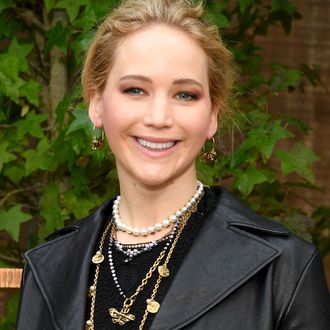 Photo: Pascal Le Segretain/Getty Images for Christian Dior
Wedding season went out with a loud, messy bang on Saturday evening, as Jennifer Lawrence married her art-dealer boyfriend, Cooke Maroney, at an intimate ceremony nestled in Rhode Island's Belcourt of Newport. (It's a very fancy oceanfront mansion.) As previously reported, the couple invited around 140 guests to their wedding, which included the likes of Adele, Emma Stone, Cameron Diaz, Amy Schumer, Ashley Olsen, and Bradley Cooper. They also threw a lavish clambake rehearsal dinner on Friday evening for the attendees. People has some fresh details, though: Lawrence wore an ivory Dior wedding dress for the ceremony, and the boozy reception lasted well into the evening.
Lawrence and Maroney, who began dating in the spring of 2018, have rarely appeared at public events together, and are usually photographed walking around the streets of Manhattan. The only time she's discussed Maroney was back in June, when she appeared on her friend Cat Sadler's podcast. "It was so organic," Lawrence explained about her decision to get married. "I haven't talked about it yet in an interview setting. I definitely wasn't at a place where I was like, 'I'm ready to get married.' I just met Cooke and I wanted to marry him. We wanted to marry each other. We wanted to commit fully. He's my best friend so I want to legally bind him to me forever. And fortunately the paperwork exists for such a thing. It's the greatest. You find your favorite person in the planet and you're like, you can't leave. So I wanted to take that offer." She added that Maroney is "the greatest human being I've ever met," which can't feel good for Darren Aronofsky or that other famous J. Maroney.