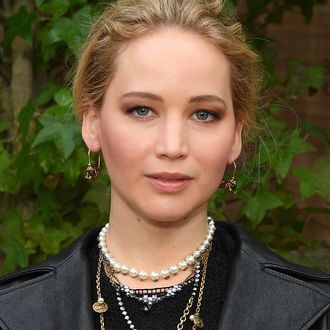 Photo: Pascal Le Segretain/Getty Images for Christian Dior
Jennifer Lawrence is set to wed art gallery director Cooke Maroney on Saturday evening, and all manner of tidbits are leaking to quench our celeb thirst. According to People, the two will tie the knot at Belcourt of Newport, one of the lesser-known "summer cottages" that have dotted the Rhode Island coast since the Gilded Age. Fun fact: Belcourt of Newport stayed family-owned longer than many of the other Newport mansions, in part by hosting buckwild parties as it fell into ruin. One such fete was a "No Underwear Allowed" party, where female guests had to stand over a mirror to prove they were following the dress code. The estate also held ghost tours.
When Belcourt Castle was bought by New Age jeweler to the stars Carolyn Rafaelian, she worked diligently to bust any and all ghosts from the premises. "There were energies and entities, some not pleasant. I had a shaman perform ceremonies. We did a major cleansing, energy-wise," Rafaelian told the New York Times in 2013. "There was a lot of heaviness, but we took care of that. Now the house has a different vibration."
According to TMZ, about 150 people will be partaking of Rafaelian's hard-won good vibes this weekend. A menu obtained by the site says guests will enjoy such delicacies as brussel sprouts with cured egg yolk, smoked pork belly with pickled apple, wood-roasted fish, heirloom roast carrots, and something called a "cauldron fritter." S'mores will also be available for dessert, for those looking for a less spooky subtlety.
Update, Saturday afternoon: Lawrence and Maroney threw a lavish clambake rehearsal dinner for their 140 guests on Friday evening. Per People, fancy Hollywood guests including Bradley Cooper, Adele, Kris Jenner, Nicole Richie, and Cameron Diaz kicked back on Rose Island (located in the state's Narragansett Bay) while enjoying the never-ending clamtravaganza under a heated tent. We're assuming the drinks flowed, too.