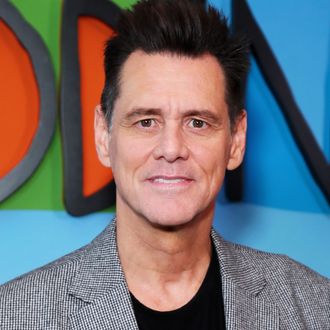 Jim Carrey.
Photo: Leon Bennett/Getty Images
In addition to starring in movies, having his own Showtime television series, and putting out a consistent stream of artwork on Twitter, Jim Carrey has also carved out some time to write a book. According to the Associated Press, Carrey has co-written a novel with Dana Vachon titled Memoirs and Misinformation, which is described as a "fearless and semiautobiographical deconstruction of persona." The book's publisher, Knopf, went further in a press release, explaining that the authors "have fashioned a narrative about acting, Hollywood, agents, celebrity, privilege, friendship, loneliness, romance, addiction to relevance, fear of personal erasure, growing up in Canada, and a cataclysmic ending of the world — apocalypses within and without," with Carrey himself adding, "None of this is real and all of it is true." [Scratches head.]
Memoirs and Misinformation is slated to be released sometime next May, and Carrey plans to go on tour to promote it. In the meantime, Carrey returns to Showtime next year with the season-two premiere of Kidding on Sunday, February 9. Just a few days later he'll return to the big screen as Dr. Robotnik in the Sonic movie, which was delayed after fans watched the trailer and really, really, really didn't like how their beloved hedgehog was portrayed onscreen. (Oh God, the teeth. The teeth.) Hopefully, director Jeff Fowler's decision to listen to the complaints of what Carrey called "the collective consciousness" ends up being a good call.