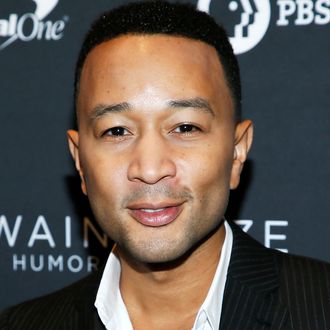 Photo: Paul Morigi/Getty Images
Friendships are complicated, right? One day you are totally BFFs with someone and the next you are gently chastising them for their political beliefs on social media. That's just life, man. John Legend understands this, which is why he took to Twitter on Wednesday night to clarify some recent comments he made about his old friend, aspiring gospel artist Kanye West.
The comments can be found in the December 2019 edition of Vanity Fair, which features Legend and his wife, Chrissy Teigen, on the cover. In the accompanying interview, Legend says that while he is "not trying to disown Kanye," he admits that he and the Jesus Is King rapper "were never the closest of friends." This quote sent media outlets into a tizzy, as Legend was famously discovered by West and signed to West's G.O.O.D Music label, which ultimately launched his career. Complex wrote an article about Legend's quote, provoking a Twitter thread response from Legend about what he really meant when said he and Kanye were "not the closest friends."
"I get why people want to make this a thing," Legend tweeted, "But I was explaining to the reporter how I've seen people I love reacting to the deaths of their mothers. I was thinking specifically of my mom, Chrissy's mom, and others." It would seem that Legend is directly referring to the untimely passing of West's mother, Dr. Donda West, something West has publicly struggled with. However, Legend goes on to clarify that his comments about not being close to Kanye were about West's grieving process: a process he was not privy to. Legend tweeted:
Then [the reporter] asked me if I was referring to Kanye as well after Dr West died. And I told her I wasn't really in a position to say because while Kanye [sic] have a long friendship and have a made a lot of great music, we weren't close on the level of confiding in each other about grief.
While a slightly convoluted clarification to be sure, the main takeaway is that John Legend does not want this to be a thing, okay? John and Kanye are definitely friends and make really cool music together, they just aren't, like, those type of friends, you know? You don't? Whatever, it doesn't matter, just do not make this a thing. Got it?