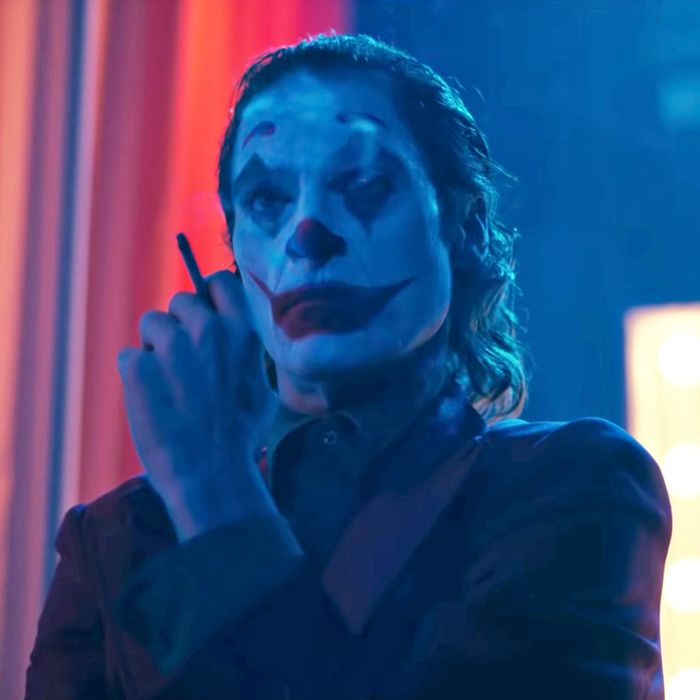 "If a film is good, then there could be three
Joker
movies a year."
Photo: Warner Bros.
Joker is laughing all the way to the bank. Over its opening weekend in theaters, the R-rated, superhero-adjacent crime drama over-performed prerelease financial expectations, taking in $93.5 million at the domestic box office to obliterate the October earnings record of $80 million, set by Venom last year. Although the FBI, the Army, and police departments in Los Angeles and New York remained on heightened alert for violent moviegoers — who they feared would be inspired by the Batman spinoff's tenuous connection to the 2012 shooting massacre at a movie theater in Aurora, Colorado — Joker managed to avoid any outbreaks of violence while packing in viewers. (In Chicago, two 23-year-old men were arrested without incident for smoking and causing loud noises in a theater showing Joker, and an audience self-evacuated at a Long Beach, California, screening of the film after a man was acting "suspiciously.")
The gritty, Joaquin Phoenix–starring film premiered in competition at the Toronto International Film Festival last month and claimed the Golden Lion for best film at the Venice International Film Festival in August. (It received an eight-minute standing ovation in Italy.) Globally, Joker dominated the international movie marketplace this weekend, nabbing $140.5 million in 73 territories to become something of a unicorn. It stands as the rare comic-book adaptation to roll out in the middle of prestige movie season, rack up awards bona fides and harvest money like an event movie — not just in spite of, but likely because of its notoriety as a film.
The film stoked myriad controversies en route to the multiplex: the threatening reports of planned "incel" activity at theaters, the leaked script, the journalist-less red carpets, the staged "outtake" featuring a profanity-laden tirade by Phoenix on set. Family of the individuals killed in the 2012 Aurora shooting sent a letter to Joker's distributor, Warner Bros., requesting that the studio lobby for gun reform and help fund gun-victim charities and gun-violence intervention programs. Lesser fiascos have effectively derailed other movies — in August, Universal made the decision to yank The Hunt (which follows a group of American "deplorables" who are kidnapped and hunted for sport in rural Europe) from its release schedule after its violent plot was met with a storm of criticism from all sides. So how did Joker sidestep its crescendo of bad buzz to become a hit?
Despite the fact that the Joker character has appeared in no fewer than three other live-action Batman iterations — Jack Nicholson portrayed him in 1989's Batman, Heath Ledger played him in 2008's The Dark Knight (for which the Australian actor won a posthumous best supporting actor Oscar), and Jared Leto took on the role in 2016's Suicide Squad — he remains one of pop culture's most beloved bad guys. Never mind that Leto's embodiment of the character receded from the multiplex less than three years ago, audiences have shown an astonishing absence of Joker fatigue.
"If a film is good, then there could be three Joker movies a year," says Erik Davis, managing editor of Fandango. "One of the biggest critiques of Suicide Squad was that we didn't get enough of the character in the film."
Combine the preexisting enthusiasm for the IP with the promise of novelty from writer-director Todd Phillips: His origin story — in which Joker is Arthur Fleck, a professional clown and wannabe stand-up comedian who lives with his mother and fares poorly under Gotham's sub-par mental-health services — is the first film to attempt to explain the character's affiliation with both comedy and intended societal overthrow. (The influence of Martin Scorsese on Phillips is well-known by now.)
"Not only is the comic-book genre the most popular genre for big screen entertainment right now, but when you do something different — when you make one of these films R-rated, when you take a risk, take a big swing that isn't necessarily being taken from other films — then that is going to raise awareness," says Davis.
In various interviews, Phillips has emphasized what he sees as his unique treatment of Joker's story. "I was going through [the script] and I realized, I said, 'Well, why would we make something, like, where you sympathize or empathize with the villain?' It's like, because that's what we have to do," he told Vanity Fair. "People are interested in a film that puts the villain front and center," Davis adds, "and people have been very interested in comic-book movies crossing over as awards contenders."
Indeed, the $55 million movie's studio distributor Warner Bros. strenuously positioned Joker as prestige product, premiering it at fall film festivals singularly associated with awards season and marketed it as a dark, edgy drama quite outside the template of other DC Extended Universe films such as Batman v Superman: The Dawn of Justice and Aquaman. Its marketing campaign kicked off with a vague shot of Phoenix's Arthur Fleck posted to Phillips's Instagram account, followed by a barebones trailer that similarly focused on the lead actor — it was noticeably lacking any caped crusaders or special-effects sequences. Further differentiating the movie from its comic adaptation brethren, Warner opted not to produce any consumer products related to the film, The Hollywood Reporter notes.
Even as concern about the film's ability to entice potentially violent theater patrons grew, Warner did not alter and decrease its promotion of the film. As a result, despite increased police presence at screenings in Los Angeles and New York, audiences across the country showed up en masse to see the movie that had captured the attention of the media, fans, and law enforcement alike for the last six weeks.
"We're living in a post-9/11 society that has become accustomed to not let anything get in the way of people living the lives they want to live," says Davis. "Every theater is, of course, taking whatever precautions that are warranted. But more generally, if a movie comes out [people] want to see, they're going to see it. They're not going to let articles or anything else interfere with what they want to do. There is a bubble on the internet that may make things seem like a much bigger deal than it is."