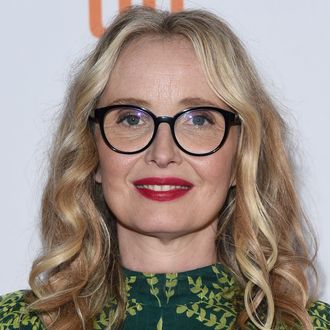 Photo: Amanda Edwards/SHJ2019/WireImage
After Michelle Williams's (no, not that Michelle Williams) Emmy speech, it shouldn't come as a surprise to hear that Hollywood has a major problem when it comes to compensating women fairly. Yet every time a woman comes forward and speaks openly about her experience with this pervasive issue, the details are staggering, whether she works on or off-screen. In the latest instance of this to come to light, actress and filmmaker Julie Delpy shares that she has faced the gender pay gap multiple times while working on both sides of the camera.
In a recent interview in the Variety Lounge at the Zurich Film Festival, Delpy opens up to Variety film critic Guy Lodge about her support of both the Me Too and Time's Up movements, and her personal experience with the wage gap in Hollywood. "As a woman, you know you're paid less than a man as a writer or as a director or as an actress," she states matter of factly. Delpy then goes on to reveal that for her break out film role in Before Sunrise, the first in a series of films she made with director Richard Linklater and actor Ethan Hawke, she was paid "maybe a tenth" of what her co-star Hawke was paid.
For the next film in the franchise, Before Sunset, Delpy says she was only paid "half" of what Hawke was paid even though both she and Hawke co-wrote the film with Linklater. However, this story does have a (somewhat) happy ending as Delpy refused to do Before Midnight, the final film in the franchise, unless she was paid the same amount as Hawke. "And the third movie," Delpy tells Lodge, "I said, 'Listen guys, if I'm not paid the same I'm not doing it." While it appears to be a better-late-than-never situation for Delpy, it seems clear that Hollywood could do a much better job of compensating women fairly from the very beginning.