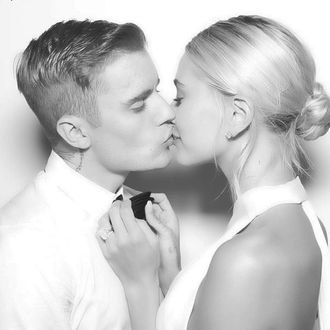 Photo: Justin Bieber/Instagram
Meet the Biebers! Even though Justin Bieber and Hailey Baldwin have been married for over a year at this point, these crazy kids decided to head down below the Mason-Dixon Line to one of South Carolina's finest plantations for a proper wedding, anyway. And what fun they had! The duo tied the knot (again) on Monday, September 30, at the state's Montage Palmetto Bluff, and when they weren't making their very famous guests watch The Notebook on repeat, they posted a few photo-booth snaps on social media for their fans. You know, those photo booths that make you look like a poreless alien. Because altar pics are so gauche.
Baldwin, the "fire" bride in question, previously admitted that they married so quickly because they wanted to have sex. She also said Bieber pisses her off quite frequently in their relationship. "It's always going to be hard," Baldwin explained to Vogue at the time. "You don't wake up every day saying, 'I'm absolutely so in love and you are perfect.' That's not what being married is. But there's something beautiful about it anyway — about wanting to fight for something, commit to building with someone. We're really young, and that's a scary aspect. We're going to change a lot. But we're committed to growing together and supporting each other in those changes."
Stay tuned for additional Bieber-Baldwin wedding intel, like if those irate hotel guests ever received refunds on their rooms.