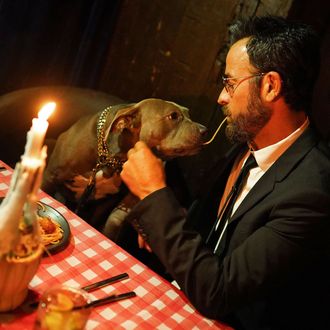 Photo: Gonzalo Marroquin/Patrick McMullan via Getty Image
Find someone who looks at you the way Justin Theroux looks at his dog, Kuma, while slurping on spaghetti. On Tuesday, Disney hosted the New York premiere of its latest live-action reimagining, Lady and the Tramp, and the occasion called for a "Bella Notte" photo op, complete with a red-checkered table and romantic candle lighting. Theroux, who plays the titular Tramp, brought his rescue pit bull, Kuma, to the premiere, and told ET that "it's her first premiere" and "her first part in a movie." Kuma went back to her roots to play Pound Dog #3.
A live-action Lady and the Tramp that leans heavily into the dogs-making-bedroom-eyes-at-each-other aspect of the film and is co-penned by "godfather of mumblecore" Andrew Bujalski is one of many things in our broken-matrix world that seems like a 30 Rock concept come to life. That being said, the premiere gave us a gorgeous photo op of leads Tessa Thompson and Theroux posing with their canine doubles, Rose and Monte, on the red carpet. Look at how Tessa's billowing bell bottoms artfully drape, echoing the floof of Rose's poofy legs. Meanwhile Justin truly looks like he body-swapped with the dog and is terrified to be in a dog-body. Their scruffy hair! Their identically arched bushy eyebrows! Their facial hair! Theroux's glasses even match that dog's deeply haunted eyes. It's The Shaggy D.A. (1972) all over again.
Lady and the Tramp will be available on streaming when Disney+ launches on November 12. If this classical oil-painting photo of F. Murray Abraham posing with a dog we've decided to name F. Furry Abraham isn't reason enough to watch the movie, nothing is.