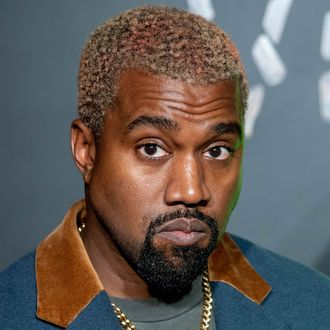 While the state of Wyoming may have prepared for the worst, Drake must have sighed with relief when his neighbor Kanye West moved to another state part-time. In a prerecorded interview with Zane Lowe on Beats 1 Radio ahead of the release of his new album Jesus Is King, Kanye explained that there are three houses on the cul-de-sac he lives on in Calabasas. One is his, the second is, I guess, someone who is irrelevant to this story, and the third is Drake's. Naturally, Kanye likes to pop in.
"You cannot be in service to God and be mad at your brother next door," he said. Later he added, "I go to Drake's house with no security and just leave my phone number." Okay, we have a few questions. Does he write it down? Does he say it into some sort of answering system? Does Drake have someone who answers the door? Is there a more normal option that we're somehow missing?
So does this mean Drake was right down the street, drinking a white-wine spritzer by the pool, while Kanye West was building low-income housing domes inspired by Star Wars in his backyard? I guess we know who tipped off the county officials.