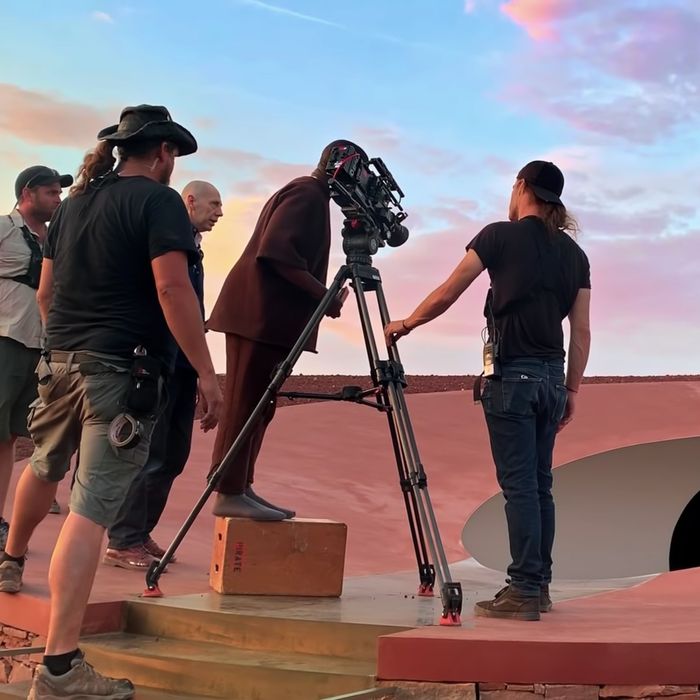 The one thing that actually arrived on time.
Photo: Kanye West/YouTube
Well, Kanye West released one thing on time last night, actually even a bit early — his short film Jesus Is King, out today, probably played at an IMAX theater near you on Thursday night. Heck, an audience in L.A. even got to see it on Wednesday! When Kanye previewed the Nick Knight-directed project at his Jesus Is King events in Detroit, Chicago, and New York, details were slim: We knew that it was set at James Turrell's Roden Crater installation in Arizona, and that it would depict some aspects of Kanye's ongoing Sunday Services and the upcoming album. Past that, it was anybody's guess! We may finally have Jesus Is King the album now too, but if you're still curious about the accompanying film or debating buying a ticket, here's your rundown of what to expect from it.
It's not the album
Not even close. Think of Jesus Is King as a supplement, like a bonus feature from the album. It does include three album tracks: "Selah," "Everything We Need," and "Use This Gospel." I also thought I heard a snippet of "Jesus Is Lord" in Kanye's credits performance of "Every Knee Shall Bow," but that's not in the list of songs from the credits. All that's to say, the film's missing some of the internet's favorite tracks so far, such as "Water" (in which Kanye inaccurately claims the human body is "90 percent water") and "Closed on Sunday" (the song about Chick-fil-A).
There's not a plot
Unlike Kanye's past long-form music videos like Runaway and the never-mass-released Cruel Summer, not much, well, happens in Jesus Is King. It's mainly Kanye and various members of his Sunday Service choir performing music in the Roden Crater shot from various angles, interspersed with a few shots of some mountains (in Arizona? Wyoming?), what I think was a deer, and a flower. There's no dialogue or narration for that matter, either — some originally thought the movie might be a documentary about the new album or Sunday Service, but it doesn't teach us much that we didn't already know.
Kanye has truly caught the spirit
When Kanye started his Jesus Is King preview events, members of the Chicago audience reported an announcement that he's now only making gospel music. That certainly fits with the movie, which is far from secular: It opens with a Bible verse, Mark 1:15, which is supposedly Kanye's favorite. "And saying, the time is fulfilled, and the kingdom of God is at hand: Repent and believe the gospel," it reads, acting as a message about the current state of affairs in Kanye's own kingdom. Other Bible verses that make an appearance include 1 Chronicles 16:25, Ephesians 2:8-9, John 8:12, Philippians 4:23, and that classic John 3:16 ("For God so loved the world …").
That carries over to the other music in the film, too. Much of the film's track list (not the album's ever-changing one) draws from gospel songs and hymns, so expect a lot hallelujahs. It hits classics like "Perfect Praise" ("oh Lord, how excellent is thy name!"), "When I Think of His Goodness," and "Every Knee Shall Bow," often accompanied by an organ and clapping. Early on, it also features "O Fortuna" from Carl Orff's mid-1930s cantata, Carmina Burana, itself based on a Latin poem.
Like Sunday Service, it rearranges old songs
Of course, there's an interpolation of the refrain from "Ultralight Beam," up until this point Kanye's gospel opus. Aside from that, there are two songs from Kanye's fourth album, 808s & Heartbreak, "Say You Will" and "Street Lights." He performs the latter during one of the most affecting moments of the film, first a capella when he's sweeping the empty crater room, eventually accompanied by three others on piano, organ, and vocals.
There aren't many familiar faces
In many of the group scenes, it might take a second to locate Kanye. At the beginning, he walks into the crater alongside the rest of the choir, with little fanfare. He was only the star of about two of the scenes: his sparse performance of "Street Lights" (mentioned above) and another I'll talk about in a second. It largely fits with the other Sunday Service clips we've seen, which tend to be far from straight-up Kanye concerts. That said, don't expect to see Kanye collaborators who became Sunday Service regulars like Kid Cudi, Chance the Rapper, or Ty Dolla $ign, either. If anyone gets top billing for Jesus Is King, it's choir director Jason White, whose dynamic conducting tends to be the focal point of many scenes.
Psalm West gets his spotlight
Kanye's youngest child with Kim Kardashian West, Psalm, may not even be 6 months old, but he can already log a film credit on his résumé. The last scene of the film features a close-up of Kanye (you can't see his face), shirtless and holding baby Psalm. He's singing one of his new songs, "Use This Gospel," a capella to his son, with lines like, "Use this gospel as a weapon." (That's the song that features the Clipse reunion and Kenny G's sax solo, but obviously, don't expect any of that from Kanye's solo performance.)
There's a lot more of that circle lens
If you watched the livestream of Kanye's Sunday Service at Coachella, it was hard not to notice that it was all playing out through a circular filter. Whether you thought it was artistic, frustrating, or just confusing, it's once again the case with Jesus Is King — although this time, the circle zooms in and out to varying degrees, and at one point it's even an oval. I'm not going to try to interpret what it means, but it's likely part of why the film is being shown specifically in IMAX theaters, to get the full effect. And speaking of …
It's only about half an hour
So if you're expecting a full movie from your expensive IMAX ticket, you might want to reconsider before dropping upwards of $25. My audience murmured in puzzlement when the credits hit, then sat through all of them, hoping for something more. All told, the person I sat next to, a Kanye fan who'd gone to his New York Jesus Is King preview last month, said the new music (all three songs, mind you) sounded way better than it had in that environment, so that may be worth it enough for you. Now that we have the album though, that may be enough — but if you're looking for another introduction to the new Kanye, you'll get it in Jesus Is King the movie.