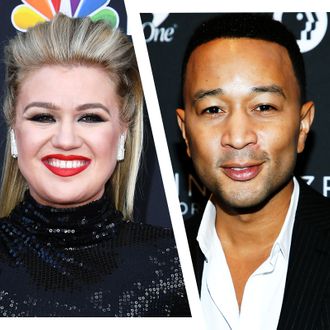 We really encourage you to stay and not go away to read this news flash from Voice judges (and pals) John Legend and cover queen Kelly Clarkson, who, in the name of holiday enthusiasts everywhere, decided to duet on an updated version of "Baby, It's Cold Outside." Per Vanity Fair, the bop, which will be released as a standalone single later this year, has newer, woker lyrics written by Legend and Insecure's Natasha Rothwell, and it's described as being "every bit as fun and swinging as the original." A quick taste:
"What will my friends think …" sings Clarkson.

"I think they should rejoice," Legend responds.

"… if I have one more drink?"

"It's your body, and your choice."
Do "I Saw Mommy Kissing Santa Claus" next!