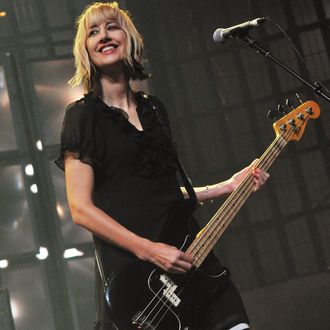 Photo: Jim Dyson/Redferns via Getty Images
Kim Shattuck, the lead singer and songwriter of the Muffs, died on Wednesday due to complications from ALS, also known as Lou Gehrig's disease, reports Rolling Stone. Shattuck was 56 years old.
Shattuck was best known for being the lead singer, guitarist, and songwriter for the band the Muffs, whose cover of Kim Wilde's "Kids in America" was prominently featured in the 1995 film Clueless. She was also a member of both the Pandoras and the Beards, and contributed vocals to songs by NOFX and Bowling for Soup. In 2013, Shattuck joined the Pixies for their European tour, replacing original Pixie Kim Deal before eventually leaving the band at the end of the tour.
Her husband, Kevin Sutherland, confirmed the news this evening via Instagram: "This morning the love of my life Kim passed peacefully in her sleep after a two-year struggle with ALS. I am the man I am today because of her," Sutherland wrote. "She will live with all of us through her music, our shared memories and in her fierce creative spirit. I love you always my Kimmy. Thanks for sharing your life with me."