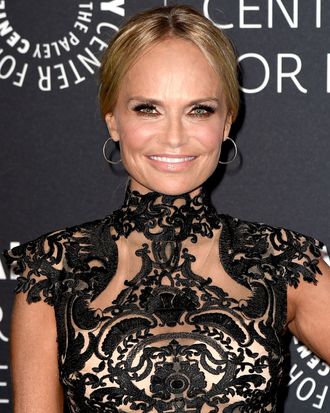 [
"Thank Goodness" voice
] There are roles you cast, you didn't know you'd cast.
Photo: Kevin Winter/Getty Images
Aside from the legions of YouTubers who compile "No Good Deed" riff comparison videos, there are few people as invested in the continuing success of Wicked the musical as the original G(a)linda, Kristin Chenoweth herself. In order to promote her latest album For the Girls, Chenoweth is doing an eight-performance stint on Broadway starting November 8. Given that Wicked just recently turned 16, and that rumors of a Wicked movie have been around for nearly as long, we only thought it was appropriate to ask her if and where she might like to appear in the film. "When we did the Wicked special, Idina and I were talking, and she goes, 'We're not doing that! What would we do?'" Chenoweth said of the idea of appearing in the movie. "I said, 'If we were in the movie, we should just be in a crowd, and the camera just pans by, and you just see us for a second, and then that's it.'" According to Chenoweth, Menzel was at least up for that idea, promising, "That, maybe, I could see."
As for the movie's potential stars, Chenoweth's choices for casting Elphaba and Glinda, as she's said in the past, remain consistent. She'd like devout Wicked fan Ariana Grande as Elphaba and Disney channel turned Light in the Piazza star Dove Cameron as Glinda. "It has to be!" Chenoweth said. "I'm not a casting director, but I am a wise woman."
As part of the show, Chenoweth told Vulture, she's planning to bring out a current or former Glinda for a "master class" on how to sing "Popular," that big number beloved by middle-school talent-show performers everywhere. "I need to make sure they're all doing the hair flip correctly," Chenoweth said. "I need to check their height. I think one of my Glindas is very tall, I'm not sure she'd fit in the bubble." Plus, "there might or might not be a sing-off, but you know I'm always gonna win." If you come for the sparkly tiara, you'd best not miss.