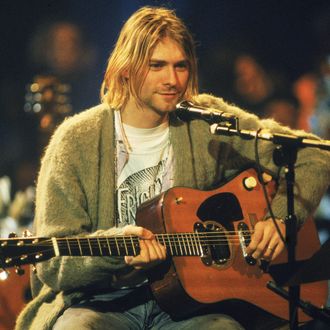 Photo: Frank Micelotta Archive/Getty Images
As far as famous sweaters go (Mr. Rogers's? Freddy Krueger's?) Kurt Cobain's green cardigan has them all beat by a landslide. The sweater he wore during Nirvana's MTV Unplugged performance was just purchased for $334,000. That price tag makes it the most expensive sweater ever auctioned, according to The Guardian. Kurt Cobain wore the sweater while performing at Sony Music Studios in front of a live audience on April 5, 1994, five months before he killed himself. The Manhattan-brand sweater is made of olive-green mohair and acrylic. It is unwashed with stains. The auction took place at the Hard Rock Cafe in New York during Julien's Auctions's two-day rock-memorabilia event.
One of the musician's guitars was also auctioned off: a turquoise left-handed guitar that Cobain used during the In Utero tour. The buyer, who purchased it for $340,000, also received a handwritten note from Courtney Love saying that this was one of Cobain's favorite guitars. The instrument previously sat in the Rock and Roll Hall of Fame, where in a few months nominees like Whitney Houston and Dave Matthews Band may be inducted and honored alongside Cobain.