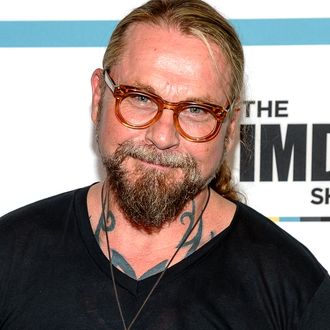 Kurt Sutter
Photo: Rich Polk/Getty Images for IMDb
Kurt Sutter, who had scaled back his involvement with Mayans M.C., the Sons of Anarchy spinoff that he co-created, seems generally unruffled in a letter he sent to his staff today explaining that he has been fully fired from the series by FX. "It's been reported by writers, producers, cast and crew that my absence and subsequent behavior when there, has only created confusion, chaos, hostility and is perceived as abandonment," Sutter wrote in his letter, obtained by The Hollywood Reporter. "Or at least that's how Disney has interpreted it. I'm sure it's true." Elgin James, who created the show with Sutter, will fully takeover running Mayans, which his now-former collaborator is very supportive of.
Sutter has worked with FX for almost 20 years, and was the man behind one of the network's first big hits, Sons of Anarchy. He is known for his difficult and frequently inappropriate manner, having previously acknowledged a framed letter he keeps detailing incidents of "unprofessional behavior" with Fox execs. Sutter hung it, he says, as a reminder that, "I'm a fuckin' idiot and that behavior creates fucking lawsuits." According to THR, the culture change at Fox following its acquisition by Disney prompted closer scrutiny of Sutter's behavior, which he seems comfortable admitting was questionable. "This morning I was fired by Dana Walden and John Landgraf for all the complaints levied against me. Not the way I wanted to end my 18 year relationship with FX. At least being fired for being an abrasive dick is on brand," reads Sutter's letter, which continues immediately with, "I deeply apologize if I've made people feel less than or unsupported. My intention was literally the opposite."
Update 7:45 PST: In a letter Sutter sent to his inner circle, obtained by Deadline, Sutter said that he blames his ouster with creative differences with Disney. "Clearly I ruffled a few mouse ears," he wrote. "The truth is, the suits wanted me gone. I stepped on toes and bruised egos. And in this Disney regime, I'm dangerous to the wholesome brand. And clearly not worth the trouble. So 18 years of friendship, loyalty and producing quality television, was flushed down the drain. They threw me under the fucking bus." The full letter is available at Deadline.