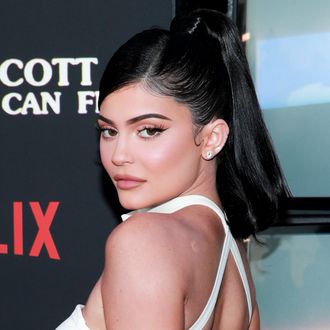 Photo: Rich Fury/Getty Images
Listen, we can't all be incredible vocalists, but when we've got a song in our heart we have the right to let it out! That's precisely what Kylie Jenner did while giving a filmed tour of Kylie's Cosmetic office, and that impulse led to the most delightful piece of video content we've seen all week. At one point during the video, Kylie tells the camera that she's going to wake up her daughter, Stormi, and quietly saunters into her room. Once inside, she flips on the light and launches into the most melodious, glorious three-line aria we've ever heard: "Rise and Shine." Fin.
The moment in it of itself is pure in nature — just a mother singing to her newborn babe, telling her it's time to wake and greet the day! However, the simplicity of the circumstances belies the intricacy of her song, which is where we, the viewer, derive our joy. The addition of an "h" before the word "rise," the breathiness of her tone, the subtle lilt to end the word "shine" — whether she knows it or not, Kylie is making complicated melodic choices, people! Beyond Kylie's innate musicality, the emptiness of Stormi's room, the earnestness in her delivery, and the fact that Stormi is clearly awake and sitting upright when Kylie starts singing combines to make the entire video a work of modern art.
The artistry of Kylie's song is not lost to the internet. "Rise and Shine" has already been made into a ringtone, written out phonetically, and covered by princess Ari herself, and we are sure there are plenty more homages to come.
We shouldn't be surprised by Kylie's songwriting skills; it's no secret that she loves music! Kylie recently broke things off with rapper Travis Scott and was spotted hanging around ex-boyfriend Tyga's recording studio. Also, who could forget her friendship with singer Pia Mia, who quite boldly sang an acoustic version of "Hold On We're Going Home" for Kanye and Drake around the Kardashian dinner table once upon a time? Sorry, Pia, but it's clearly Kylie's time to "rise and shine." Someone get this girl on the next season of The Masked Singer, ASAP.