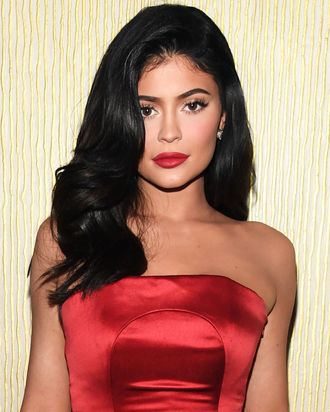 Photo: Kevin Mazur/Getty Images for The Recording Academy
Certainly you've seen the video by now, the one where Stormi Webster, in her Boss Baby corner office at Kylie Cosmetics, rose and shone to Kylie Jenner's haunting wake-up riff. It's a stirring clarion call, a rousing siren song, a virtuoso performance that puts even the Rolling Stone 100 Best Singers to shame.
It's also awkward as heck, and has led to a bumper crop of memes, ringtones, and remixes. Ariana Grande covered it, and Lizzo gave it a live flute-y twist. It's only a matter of time until Kelly Clarkson covers it on Kellyoke. The buck stops here, though. No longer are carpetbagging memesters going to profit off the hard work and creative labor of a musical artist. Kylie Jenner is a mother first, a vocalist second, but lest we forget, she's a billionaire third. On Tuesday, TMZ reported that Jenner filed legal documents to trademark "the slang version of the famous wake up call," which would cover cosmetics as well as "belts, pants, coats, dresses, footwear, gloves, headbands, headwear, jackets, loungewear, scarves, sleepwear, socks, swimwear and undergarments."
Jenner already sold out of $65 Rise and Shine hoodies online, so clearly the demand is there. Jenner's trademark filing comes right after the news that, just days after being posted on October 16, the #RiseandShine hashtag became the fastest ever to hit a billion views on TikTok. Luckily, the filing said nothing about Halloween costumes, though. So you can still do your DIY Stormi and Kylie "Rise and Shine" couples costume without paying royalties.