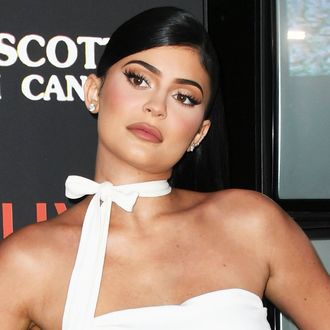 Photo: Jon Kopaloff/FilmMagic
So what, huh? So what if sources reported to TMZ on Tuesday that Kylie Jenner and Travis Scott were taking a break, and later that night, on that very same Tuesday, Jenner was spotted with her ex, Tyga? Huh? And so what if Kylie and Travis started dating in 2017, shortly after she broke things off with Tyga, hmmm? What's it to you? And what about it? If you believe that a date took place Tuesday night, you are loco in the coco as Kendall says (Roy, not Jenner, common misunderstanding). At least, that seems to be the sentiment behind Kylie's Thursday-morning tweets in response to all the hot goss.
I mean, that first sentence is fundamentally not wrong. Though the fact that Jenner put scare quotes around the words "2am date with Tyga" and not the words "he happened" to "be at," feels like what we here in fictional Twitter court would call omission by punctuation, on account of how shady it all sounds. Sources clarified to E! that Kylie was simply out in West Hollywood for some post-breakup "mac and cheese and chocolate dessert" with her friends, Stassie Karanikolaou and Kelsey Calemine, when Tyga invited them to come hang with some mutual friends at the Sunset Marquis. Now, I'm no fancy city lawyer. I'm just a humble fictional-Twitter-court lawyer, but it does seem as though this alibi partially checks out: The West Hollywood Sunset Marquis is home to Nightbird Recording Studios, and Tyga does appear on their list of clients. Furthermore, the main thing that matters is that Jenner and Scott's daughter Stormi, heiress to the Lip Kit Fortune, will still spend equal time with both parents and is their top priority:
In other words, they may be swimming apart, but Mommy Shark and Daddy Shark still love Baby Shark very much. Doo doo doo doo doo.
Update: And while we're at it, Travis Scott would like to deny the cheating rumors about him, rumors that claim he started dating Instagram model Rojean Kar before he and Jenner decided to consciously uncouple. "It'a [sic] really affecting when u see false things said about u once again," he posted to his Instagram Story on Friday. "These false stories about me cheating are simply not true. Focusing on life, music, and family at this moment is what's real."
For her part, Kar also said she and Scott not seeing each other. "None of these rumors are true, it's just the internet creating a false narrative," she wrote on her Instagram Story Thursday. "Please stop spreading lies & leave him, her & I alone because it's affecting real lives. Thank you."