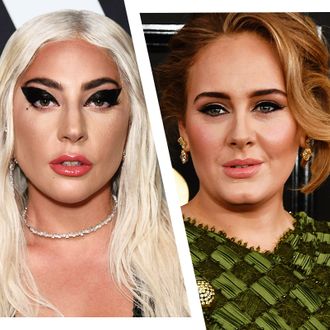 The deep end called, and it wants Stefani Joanne Angelina Germanotta back because she is off it! In a week full of strange and unusual album teases, Lady Gaga enigmatically responded to the endless, years-long barrage of crazed "WHERE'S LG6??" tweets by announcing the title of her next album. In the most confusing music-release announcement since "Queen of Jordan" Sherri Shepherd said, "My single 'My Single Is Dropping' is dropping," Lady Gaga tweeted on Tuesday afternoon:
That's it. That's the tweet.
So what could it possibly mean? Let's examine our options. The first is that this is simply Gaga expressing a level of standom and affinity toward fellow pop powerhouse Adele and not really naming an album after her. It would be like the ridiculously high-exposure equivalent of me tweeting, "I named you after the bravest person I ever knew, Ally Maine Alter," or like Drake getting a tattoo of Céline Dion. The second theory is that Gaga has some other tragic relative we don't know about named Adele; maybe she's Joanne's late third cousin twice removed or something, to whom she's devoting the album. The third is that it's a play on "Adele Dazeem," and really she's naming it IDINA. The fourth option is that Miss Gaga, mistress of chaos, simply wants to ruin everyone's SEO forever.
Here's what we do know about LG6 so far: Sophie, BloodPop, and Boys Noize have been tied to it, with rumored collaborators including Cupcakke, Diplo, and even Rihanna. This lineup means Gaga is most likely returning to a dancier, poppier mode. If that were the case, calling her album ADELE would be the exact sort of meta-postmodern pop-commentary mindfuck angle that would make it a perfect spiritual follow-up to 2013's ARTPOP and would fit in perfectly with the Enigma era. Or maybe it's all just trolling in the deep. After all, this isn't the first time Gaga has punk'd us with album news:
Whether the album is ADELE or not, we're clearly all just willing pawns in Gaga's game of five-dimensional chess. Stefani's a mastermind … no one tell Mark Ronson.