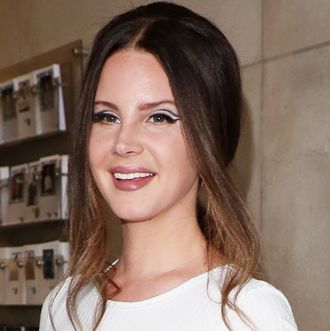 The girlfriend of a cop.
Photo: Neil Mockford/GC Images
Lana Del Rey, prophet of these end times, turned heads a few weekends ago by spending the day in Central Park with "celebrity cop" Sean "Sticks" Larkin, an analyst on shows like LivePD and PD Cam. Did it make no sense at all or all the sense in the world for Del Rey to be dating a cop, we wondered? We're still not sure but at least according to Del Rey: "He's a good cop." In a wide-ranging interview with the Los Angeles Times in which she confirms their relationship, Del Rey assured us, "He gets it. He sees both sides of things." Ah, what a relief.
We are reminded elsewhere in the interview that we can totally trust Del Rey, who recently tweeted criticism at NPR's legendary music critic Ann Powers over a tempered review of her recent album Norman Fucking Rockwell, on matters of fascism and such. "In the piece, she said that I'd overcome something, and the way she said it one can only assume she meant I'd overcome child abuse," Del Rey explained. "I'm like, 'Don't bring kids into it. Even if it's me.' And I've never said anything about that." (Of Del Rey, Powers wrote, "She is a creature born of trauma, possibly literally, if you take Lizzy Grant's teenage experiences with addiction into account; but certainly aesthetically.") On why she tweeted at Powers, Del Rey added, "I didn't know she was a big journalist. It probably would have been a good time to exercise some restraint. … I think part of my response was showing myself I do have a voice."