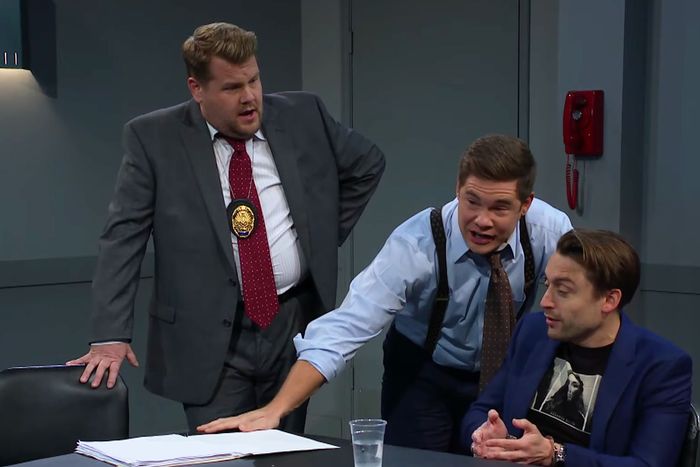 James Corden, Adam DeVine, and Kieran Culkin on
The Late Late Show.
Photo: CBS
We had quite the theatrical week in late night. All the late shows have a literal proscenium, but this week everyone seemed to be leaning into that arch. We had sketches that ended in punch lines, dramatic bows to the audience, Ben Platt — all the hallmarks of modern Broadway. Maybe it was because last week, the Little Shop of Horrors cast on The Late Late Show got hella Twitter love. Let's see who best captured the smell of the grease and the roar of the paint.
5. Recap Breaking Bad, Bitch!
Aaron Paul gave us a one-man show on Jimmy Kimmel Live!, recapping the entirety of Breaking Bad with decreasing coherence. Once he got into season five, Jesse Pinkman was just listing disjointed visuals and yelling his catchphrase. Was it an intentional evocation of Dianne Wiest in Samuel Beckett's Happy Days? Too soon to tell.
4. Jonathan Van Ness Will Be Conducting the Interview
JVN managed to turn his interview on The Late Show into something of a one-n.b. show. You can't steer a Jonathan Van Ness interview, you can only hold on. This clip makes it on the list in part because Van Ness's gown displays full nips, which has got to be weird for CBS. Look at the still above — they're using the chyron to censor JVN's bod! It's a real moment for the new cultural producers (queer, internet famous, HIV+ and thriving) throwing the old guard (CBS, shiny-floor TV, standards and practices) for a loop.
3. "I'm Not an Apple!"
This sketch on The Late Late Show, on the other hand, could have come straight out of The Dean Martin Show. That's how old-school it was. Dino would have played the Kieran Culkin part, the interrogators would have been a one-two punch of Tim Conway and Jonathan Winters, and they all would have been drunk. The 21st-century version is fun, too, though. James Corden puts on an inexplicable American accent, and Adam DeVine's insistent yelling of "I am not an apple!" nearly breaks Culkin. Plus, the sketch ends on a great punch line.
2. The New Yorker Comes Alive on Late Night With Seth Meyers
Someone at Late Night With Seth Meyers really said, "Hmmm, how can I make New Yorker cartoons even less relatable to the common man? I know! Tableaux vivants!" And bless them for going there. In a recurring bit that happens every time David Remnick pimps The New Yorker Festival on Late Night, the show's players reenact classic cartoons followed by Remnick's explanation of the jokes. It's for no one and they know it, yet they do it anyway. Their audacity is gorgeous.
1. The Only Yom Kippur Content on TV
In stunning matching maroon suits, Ben Platt and Zoey Deutch finally make Yom Kippur fun! Single-handedly reviving the advertising jingle, Platt and Deutch stare into each other's eyes and sing their Yom Kippur anthem that has been stuck in my head ever since watching this clip. I know that next year, I'm going to be humming, "Think about your sins, think about your sins, think about your sins. Don't eat anything." It's rare that you get such evergreen content from a late-night show, and even rarer that everyone in that content is wearing the same color. Mazel tov.