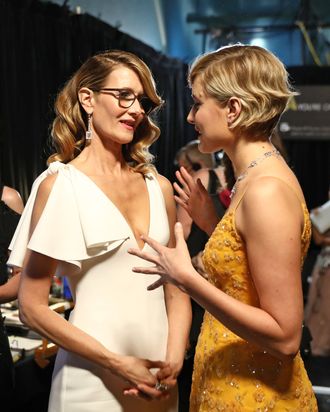 Laura Dern and Greta Gerwig.
Photo: Matt Sayles/Getty Images
Over the course of her 40-year career Laura Dern has made a habit of working with Hollywood's very best filmmakers, and says that today she considers Jurassic Park's Steven Spielberg and Blue Velvet's David Lynch "family." But her last year working with filmmakers and real-life partners Greta Gerwig and Noah Baumbach on Little Women and Marriage Story, respectively, has been one for the books. Knowing how to make her audience jealous while filming Inside the Actors Studio this week, the Emmy and Golden Globe winner recounted riding the Dern-aissance wave right into the Baumbach–Gerwig home.
"It's as if I can't talk about one experience without the other," Dern said of filming the pair of features. "But to spend last year together — whether they liked it or not — almost, literally, moving into their apartment with them, I had the time of my life."
The expansive, two-hour conversation, which had Dern sitting with Gerwig herself for a career deep dive, was filmed as part of the rebooted interview series and quickly turned into a mutual lovefest between the two multi-hyphenate women.
"The process of talking about storytelling with Noah and then with you, even before we came to these films and characters, was so amazing," Dern told Gerwig, adding that to work with her on "an extraordinary film" and Baumbach on "one of the more moving and beautiful films I've ever seen" was to work with "perfect writers."
"There is no word that doesn't feel like the truth — you would be shy to even try something differently," Dern said of the two scripts. "You find the truth in the words instead of what's inferred in them, and that is an incredible gift as an actor."
It wasn't lost on Gerwig that Little Women and Marriage Story have the Big Little Lies star playing about as opposite a pair of characters as possible: one the iconically maternal Marmee March and the other a calculating, high-ranking divorce attorney named Nora Fanshaw.
"We've talked about so many times that in the same year you play a seductive, powerful, sneaky divorce attorney who's so skilled at breaking families apart, and also play the woman who keeps the family together," Gerwig told Dern. "It's so fitting for your career that you're playing these two polar opposites in the same year!"
For the full sit-down (which includes delightful anecdotes, such as Gerwig texting Dern while nursing her newborn and watching Big Little Lies), tune into Inside the Actors Studio later this fall when episodes return October 13.